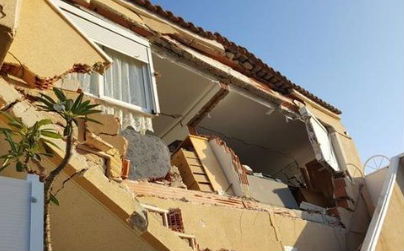 Two British nationals survived a near death experience and were rescued by emergency services after they became trapped by falling bricks and mortar after their villa collapsed in Orihuela Costa, in Spain.
The British two who were rescued from the property by fire fighters have thankfully suffered only minor injuries that could have been a lot worse and were also treated at the local hospital in Torrevieja. One was said to be suffering from serious shock.
A very lucky escape for the shocked Brits living a peaceful life on the Costa Blanca.
Firefighters had to battle and cut through security bars with intense cutting equipment that covered the window in order to reach one of the Brits and pull them out. The other was lifted from a rooftop.
Dogs highly trained in search and rescue especially for sniffing out human bodies were drafted in to check if anyone else was trapped in the large amounts of rubble but they found nothing and no-one was reported missing.
Emilio Bascuñana, the mayor of Orihuela Costa Blanca Spain, visited the area and confirmed that the two rescued were British Nationals in their 60's.
The Mayor pledged assistance for help anyone in need of accommodation while an investigation was carried out into the cause of the collapse as 15 people have had to be evacuated from the scene.