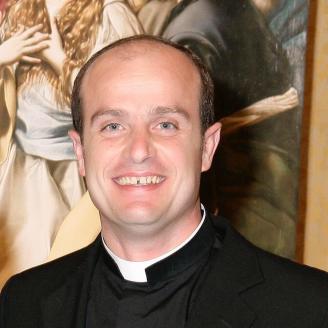 THE BROTHERHOODS of Holy Week in Torrevieja recently held a meeting with the presence of its president, Ignacio Suárez and the consiliario, Manuel Martínez, as well as representatives of the Junta Mayor of Brotherhoods. In it, he announced the appointment of the preacher of the next Holy Week in Torrevieja 2020 as the priest, Miguel Ángel Cerezo Saura.
Miguel Ángel Cerezo is a native of Camino de Enmedio, Orihuela, and was ordained a priest in 1999. He has a degree in Theology and a Bachelor of Science in marriage and family from the Pontifical Institute Juan Pablo II. He has been Trainer of the Minor Seminary of Orihuela, Pastor of Ntra. Mrs. Asunción de Biar and promoter of the family guidance centers of the Diocese of Orihuela – Alicante. He is currently a Consiliary of the Diocesan Secretariat of Family and Parish priest of the parish of San Vicente de San Vicente del Raspeig, where he also occupies the position of archpriest. It is linked to the Immaculate Conception Parish and the city of Torrevieja.
The president of the Junta Mayor, Ignacio Suárez, was in charge of delivering the decision of the Board by telephone to Aráez, who was excited and grateful to have been distinguished with the highest recognition of the Torrevejense Holy Week.