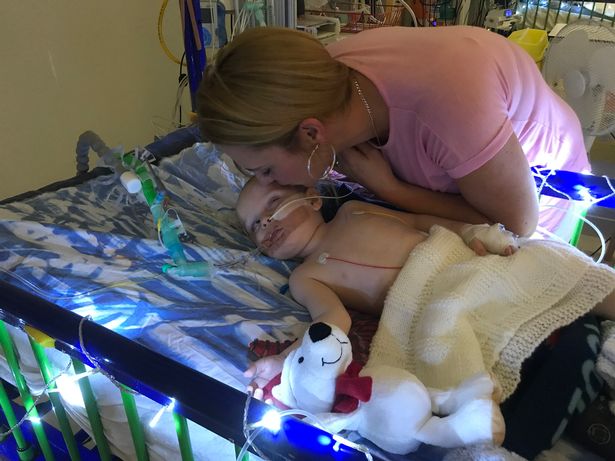 Parents are adamant the way to saving baby Williams life is with Cannabis Oil
The parents of a one-year-old boy who has a cancerous tumour in his brain have turned down the chance to give him chemotherapy and radiotherapy in favour of trying cannabis oil instead. Baby William Horne, from Treherbert, Rhondda, South Wales, was found to have a tumour "larger than a tennis ball" wrapped around his brain stem after undergoing a CT scan at the Royal Glamorgan Hospital in Llantrisant. He was immediately transferred to the University Hospital of Wales in Cardiff where surgeons were able to remove 85% of the cancerous mass. The procedure has left William unable to swallow, move his left side or open his eyes properly. "His eyes kind of flick to the side, but when I talk to him he clearly knows I'm there," Tom added.
Tom said the doctors looked "shocked" when they expressed their desire not to give William the chemotherapy or radiotherapy and to go down the cannabis route instead. "A lot of people in our situation would panic [and go with the doctors' advice] but I was so strong in my beliefs that I knew cannabis was going to work," he said. "I couldn't believe we were the first people to have this conversation with them."
Despite doctors recommending to William's parents, Tom and Kylie Horne, that chemotherapy and radiotherapy would be the best option in shrinking the remaining 15%, they refused their medical advice. The pair are adamant that the best way of saving their son's life is cannabis oil, and in particular the THC psychoactive element which Tom claims will "cause the cancer cells to commit suicide".
Professor Michael Barnes, a founder of the Medical Cannabis Clinicians Society and neurologist, stressed that while there are medical benefits to using cannabis oil, it does not cure diseases. In response to Williams's case, a spokesman from Cardiff and Vale University Health Board said:"We are unable to comment on individual cases. We always act in the best interests of our patients and their families". Tom, whose other children Alfie, 12; Layla, eight; Simon, six; and Jess, three, are all with other family members or neighbours as they try and focus on William, said he has been "inundated" with requests from people to give him cannabis oil.
A Fund raising page has been set up for little William, please follow the web site link if you would like to donate. https://www.gofundme.com/f/go-fund-me-for-william-x