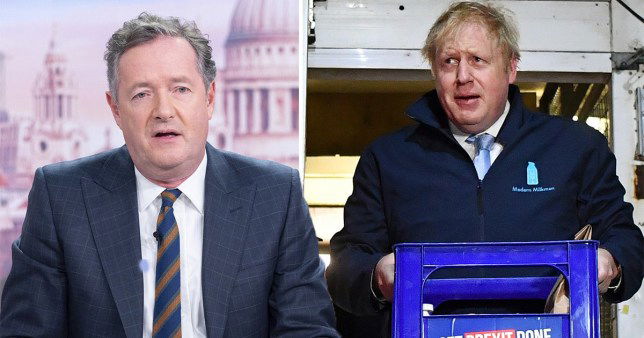 JEREMY CORBYN has poked fun at Boris Johnson who was seen entering a fridge in what alluded to an attempt to avoid being interviewed by a TV reporter.
The Prime Minister retreated into a fridge after being ambushed by Good Morning Britain producer Jonathan Swain during a pre-dawn visit to Modern Milkman, a business in the Tory-held constituency of Pudsey in Yorkshire, England.
The Prime Minister planned to load crates of milk and juice bottles onto a delivery vehicle on his last day of campaigning ahead of Thursday's General Election when he was approached by Jonathan Swain, a reporter from ITV.
When Swain first approached Johnson, he asked: "Morning prime minister, would you come on Good Morning Britain, prime minister?" Johnson's head of press Rob Oxley can then be heard saying "oh for f***'s sake" to which Piers Morgan and Susanna Reid are heard expressing their shock back in the studio.
Swain goes on to say: "I've just had a reaction from one of the minders. OK, no need to push, thank you very much," with Reid exclaiming: "The look on his face, that minder." Mr Swain then said: "Do you want to tone your language down as well because people are watching this this morning."
When Swain presses the Prime Minister, stating he was live on the show, Johnson replied "I'll be with you in a second" and walked off, before Piers exclaims "he's gone into the fridge".
Johnson then walked inside a fridge stacked with milk bottles alongside his aides. One person can be heard saying: "It's a bunker."
Mr Corbyn later poked fun at the Prime Minister for the indecent where on a campaign stop in Middlesbrough today he said: "I've not come here to deliver milk, or to hide in a fridge. I've come here with a message of hope."
Former Tory MP David Gauke, who is standing as an independent candidate in South West Hertfordshire, also ridiculed Mr Johnson by posting a photo of himself on Twitter. He joked that he was "not hiding" from the Good Morning Britain presenters by standing outside the fridge.
Just to be clear, I'm not avoiding @piersmorgan and @susannareid100. pic.twitter.com/vOovQicgot

— David Gauke (@DavidGauke) December 11, 2019
Later that morning, Mr Morgan responded to the encounter, stating that the Prime Minister had not done any favours for himself or his team with the reaction.
Cowardice is never a good look… https://t.co/MT4lGSY5rf

— Piers Morgan (@piersmorgan) December 11, 2019
Johnson has been heavily criticised for refusing to do interviews with broadcasters. Only last week, Andrew Neil laid down the gauntlet to Johnson by challenging him to do the BBC interview which he has so far refused to commit to, stating that it was "a question of trust" for the Prime Minister.
Conservative sources subsequently insisted that Johnson was "categorically not hiding" in the fridge, where Johnson was then seen carrying out a crate of milk bottles to his aides who were taking a moment to prep the PM for a separate, pre-agreed interview.