The digital transformation of real estate has been changing the very core of the trade. This modernisation has a direct effect on the companies and professionals who operate in this sector. Data published by influential Foro Inmotecnia Proptech and the API Collective illustrates how the Proptech sector is thriving and developing.
The new way of doing business began in Spain 4 years ago, and today, 'Proptech' is growing exponentially. Proptech or property technology applies technology to the sector in order to make transactions quicker and more effective, as well as providing innovating solutions. Just some examples of this model include smart homes, mobile property applications, 3-D modelling for websites, data collection and automation.
In just 12 months, Proptech grew from 259 to 334 companies in Spain. According to Finnovating, an international start-up and innovation platform, this equates to a 29 per cent total growth.
Start-up Proptech businesses, offer the real estate sector new technology and the flexibility of young companies. Traditional corporations offer their stability, resources, customers, partners and consolidated knowledge of the sector. This has created a new ecosystem, that represents the sum of all the players that are necessary to meet the needs of the new digital consumer.
At this time, the market is experiencing a stabilisation phase in which it is implementing all of the modern solutions at its disposal. In fact, in the last 6 months, the number of real estate companies has only increased by 3.7 per cent. This could be explained because the market has reached a balance between the amount of 'players' and the existing demand.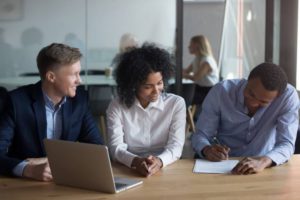 According to Foro Inmotecnia Proptech and the API collective, real estate agencies use more than 90 different technology solutions created by start-ups to improve customer experience. The most successful solutions preferred by professionals are the so called online 'marketplaces' and the use of 'big data' that can accurately assess clients and their needs. Virtual reality is another tool that allows agents to display property more realistically than with just a photo.
Proptech has shaken up the sector to such an extent, that it has now become the crown jewel when it comes to developing new companies and making big investments. Surprisingly, 63 per cent of investors in real estate prioritise Proptech. Information published by Savills Aguirre Newman indicates that the industry already generates 5,500 jobs in Spain, a figure that isn't easily dismissed.