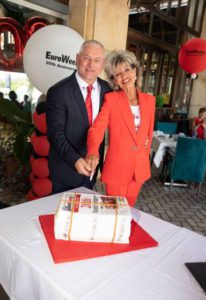 Renown Spanish media company EFE, interviewed Steven and Michel Euesden, owners of Euro Weekly News. EFE looked to gain some insight into the Euesden family and their successful company.
The business owners spoke about twenty years of publishing Spanish news for expats and the new challenges that have arisen with Brexit.
Steven and Michel Euesden arrived in Spain in 1995 with a dream and a Suzuki Vitara loaded to the brim. Nowadays, they run the largest free press group for British expats in Spain and know the business like nobody else. The main office of the news group is located on the Costa del Sol, specifically on Avda Ramon y Cajal in the centre of Fuengirola, Malaga.
Will I lose the right to Spanish healthcare? Will I have to change my passport? What will happen to my house on the coast? These are all questions that worry the 249,015 Britons living in Spain after the 2016 referendum. The Euesdens, owners of Euro Weekly News, try to answer these burning 'Brexit' questions for their readers every week.
The communication group distributes 136,000 copies through six editions that are distributed in the southeast of the peninsula and the Balearic Islands. Steven, who is also the head of Sales, explained to EFE the immediate response to Brexit seen by Euro Weekly. "When UK's exit from the EU was announced, emails full of questions began flooding into all of the newspaper's offices."
When Steven and Michel first moved to Spain, it took them almost a week to reach Mojacar in Almeria. Coming from a small town in England, they were ready to start a new life; an experience that they share with so many other Britons who have business interests in different sectors.
Of all the British residents in Spain who are of working age (138,000 according to Spain's National Institute of Statistics), 71,807 are working and affiliated to the Social Security.
From the company's headquarters in Fuengirola, Steven Euesden shares a sense of feeling forgotten with his fellow compatriots. He feels that expats have not had a chance to be part of the Brexit process.
In total, British expats in Spain account for almost a quarter million people, of which 126,013 are men and 123,002 are women. Mostly, they are over 45, but there are also 17,770 children under 15 who call Spain their home.
Supporters of remaining in the EU
Steven is convinced that the outcome of the Brexit referendum would have been very different if the opinion of British residents in Spain and the rest of the EU had been taken into account. He highlighted that in the UK, many citizens also voted LEAVE as a protest, convinced that the initiative would never actually go ahead.
According to Steven Euesden, misinformation is another factor that can explain Brexit. He insists this is the reason why his media company strives to keep the British in Spain informed and he is convinced that if a second referendum were held, the balance would most likely tip towards REMAIN.
Euro Weekly News is headquartered in Fuengirola, which alongside Alicante, is the province where most British people reside. The Valencian Community is home to 78,422 Britons, mainly living in Alicante. A further 76,870 Britons reside in Andalucia, mostly in Malaga and along the Costa del Sol.
What about my doctor?
British people living in Spain are now very concerned about losing their access to Spanish health care, especially as a lot of residents are older and use the healthcare system frequently and many also consider it to be one of the best services in Europe.
It may sound like a cliché, but according to Steven Euesden, what the British value most in Spain is the weather, followed by culture and gastronomy. He also added that although a good number of Britons live in close communities, with fellow expats and maintaining British customs and routines, another important percentage of Britons enjoys and loves participating in local customs.
These are some of the reasons why Euro Weekly publications devote a very important part of their space to local news and practical information for the British community.
Shall I sell my beach house?
Property is another of this collective's main concerns. Despite the uncertainty of Brexit, according to data from the Registrar's Association, the British bought 2,193 homes in Spain in the first quarter of 2019, 1.6% more than in the previous year.
The figures consolidate the British as the foreigners who buy the highest number of homes In Spain, especially in Valencia, Andalucia, Murcia and the Canary Islands. Of the 66,294 houses that were bought in Spain by foreigners in 2018, 15.54 per cent were acquired by UK citizens.
They are unsure of what to do next, Benjamin George told EFE. As a little boy, he arrived 24 years ago in Spain, clutching his Game Boy and teddy bear in the back seat of his parent's Suzuki. He now runs the social media side of the publishing group that employs 120 people.
He believes that a big part of LEAVE supports now regret their decision, a decision that most took over issues such as immigration or the decreasing value of the pound.
Benjamin George defines himself as a 'guiriluz'. The mix between 'guiri', the word Spaniards use to refer to foreigners and 'Andaluz', a person from Andalucia. He encourages older Britons who are scared and want to return to the UK, to stay in Spain.
He added: "Spain has a lot to offer and we are very grateful for everything it has given us."