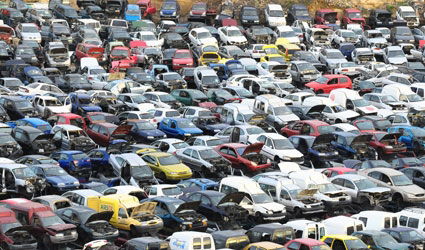 SIXTY EIGHT people and 30 companies are being investigated for releasing the equivalent of 76 million kilos of CO2 greenhouse gases into the atmosphere.
This is the same output as one car would make travelling 800 million kilometres, according to the Guardia Civil.
Investigators targeted car scrapyards that were supposed to responsibly dismantle old vehicles in an environmentally responsible way.
At the end of their useful life vehicles equipped with air conditioning systems must be recovered and managed correctly, according to legislation.
To this end, the owner of the vehicle is obliged to hand over his car to an authorised dealer and obtain documentation that proves that waste management will be carried out in an appropriate manner.
But they found that unscrupulous businesses in Madrid, Catalonia and the Basque Country were not retrieving refrigerant gases for safe disposal as they should have. Instead they were released into the air, where they make a powerful contribution to climate change.
The operation was carried out by agents of the Nature Protection Service of the Guardia Civil (Seprona), with the support of EUROPOL and the collaboration of the Autonomous Communities of Madrid, the Basque Country and Catalonia.