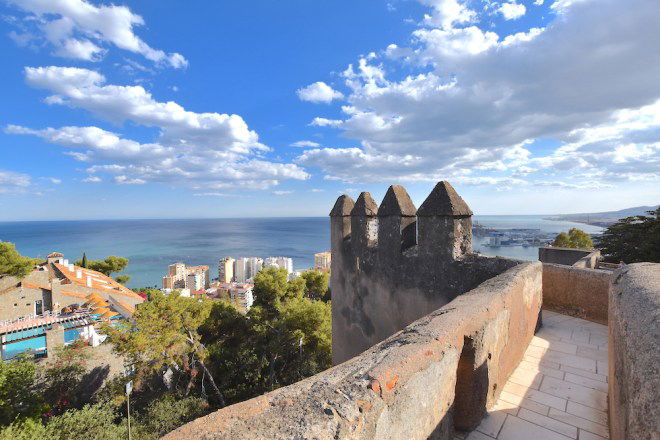 A SECTION of the north wall of the castle of Gibralfaro still remains unrepaired after damage caused by a landslide a year ago that revealed a dire need for structural maintenance to the historic monument. The area remains supported by a system of scaffolding and supports, covered with plastic tarps, without evidence of work having taken place to rebuild it.
Reports state that discussions between the Ayuntamiento and the provincial delegation of the Ministry of Culture have not yet resulted in a concrete action beyond the provisional reinforcement of the wall. On December 13 of last year, the Board authorized the placement of the scaffolding to support the area of which, on November 24, 2018, a crack caused a 15 metre by seven metre sinkhole. It has also been necessary to strengthen an adjacent section of about three metres affected by humidity and is somewhat damaged, in the risk that it may also suffer a collapse.
On October 10 this year, the Ministry of Culture stressed to the Ayuntamiento that it is essential to carry out at least some previous studies to the intervention that can be carried out in the wall to be able to identify the root of the problem. Specifically, a study of the composition of the wall and the technique with which it was built, an analysis of the section that addresses its stability parameters and the alterations it has suffered over time due to the actions carried out over the last century and finally a study of the rainwater drainage system to confirm or rule out the existence of circumstances that may have caused the disintegration.