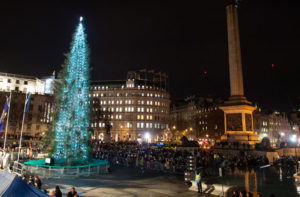 The above photo, taken on Thursday, shows the Trafalgar Square Christmas tree's switch-on ceremony.
The gift from Norway has been slammed and criticised as "sparse" and "embarrassing" by thousands of social media users in England.
Ruth Bush, the Lord Mayor of Westminster Council, has though defended against the knockers.
"This is not a British tree, this is not an American tree. This is a Norwegian tree. Therefore it doesn't look like a British tree, it doesn't look like an American tree. It looks like a Norwegian spruce… this is a beautiful tree," Ruth said.
Although local resident on the Costa del Sol Spain Paul Gregory who has just returned from London said " I went to see the turning on of the lights whilst in London this week and I can tell you straight it's a crap tree!" he told the Euro Weekly News.
" Thousands of people were there and they were all saying the same – a very poor tree and very embarrassing as it sits in the middle of the Capital" Paul further went on to say.
The tree has caused uproar on social media as many thousands are not impressed at all.