ENGLISH pet owner Josh Watson had to have his 'over-amorous' duck's penis removed after it tried to mate with its female companions 10 times a day.
Dave the Duck's private parts first became infected in October after he wouldn't stop trying to mate with his friends Dora, Freda and Edith.
On initial evaluation by the vets, the bird was prescribed antibiotics and painkillers and the owner was instructed to give the bird an intimate wash every day.
But the 'nymphomaniac' continued trying to mate with his female companions irrelevant if it was mating season or not. Reportedly between five and ten times a day.
Dave the Duck's high sex drive not only made his "private parts" become infected, his female companions have not been too impressed by his over-amorous routine and have at times reacted aggressively towards him pecking at anything including his penis, which seems to have taken the brunt of the female ducks wrath.
Dave, refusing to give up on his ways has led to his owner to refer him to the exotic species department at Highcroft Veterinary Hospital in Bristol.
Fortunately – or not – for Dave the Duck there seemed only one solution. A quick snip.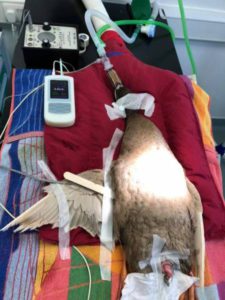 According to Metro, Vet Sonya Miles, who operated on Dave said some 'overuse and him being far too amorous' had caused his penis to prolapse before he injured it and it became infected.
The 31-year-old vet explained that if they hadn't removed his penis the infection could have spread elsewhere in his body and put his life at risk.
She said that Dave's over-amorous behaviour with the ladies that he lives with which had caused his penis to "prolapse" which resulted in his penis getting "traumatised" and then pretty infected.
Adding that normally the penis would goes back inside the duck once finished mating, but Dave's high sex drive resulted in it staying out and obviously when it's out "it's bashed and stood on and pecked at and god knows what'
Now Dave has had the operation, the vet has informed that Dave seemed "oblivious to the fact that he'd lost his manhood." Informing he was up and about and eating and doing his normal duck things immediately post-surgery.
The true test will come once he's surrounded by his female companions again.
Highcroft Rabbit, Small Mammal & Exotic Vets who operated on Dave posted the following message on their Facebook page regarding their "Special patient"
I'm afraid this post will make 50% of our followers wince but it's an important post nonetheless.
Dave the duck was referred to us recently after he got himself into a little pickle. Dave lives with lots of females and he pays a lot of attention to his females. This resulted in his penis become traumatised and infected. A ducks penis is only used for mating, not urination. So Dave underwent surgery to remove his penis.
He went home the same day and has been given strict instructions to stay away from his lady friends until he has recovered.