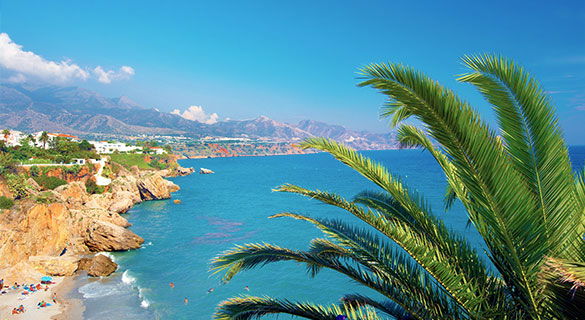 For all latest news from Spain visit www.euroweeklynews.com where you not only get all the latest news but information on the area you may be thinking of residing.
WITH New Year less than a month away, now is the perfect time to beat Brexit, Boris Johnson and the British winter, and start planning your new future in the sun in Spain!
You could join the huge numbers of Brits who are relocating to Spain and other EU countries – the number is at a 10-year high.
The number of UK citizens moving to Spain has risen by 4.6 per cent since the 2016 Brexit referendum, according to Spain's ministry of labour.
As things stands, a Brexit deal has been agreed in principle with the EU. Both the UK and the EU need to approve and sign the withdrawal agreement.
Both sides will then start to negotiate new arrangements. The EU has agreed to delay Brexit until January 31 2020
BEATING BREXIT
This means there will be a transition period to prepare for new rules. And the great news is that the transition period, which during which the EU will treat the UK as if it were still in the EU, will immediately kick in when the UK leaves and run until December 2020, unless it is extended.
But in any case, the UK has not yet left! So if you are thinking of moving to Spain you still have this year's window of opportunity during which to make a new life in this beautiful Iberian Peninsula where you can ski in the Pyrenees, the Sierra Nevada and even in the area around Madrid.
But if you crave the sunshine and heat the UK lacks, head for Spain's south coast, the Costa del Sol, or sun coast.
After suffering the effects of the lack of light in the UK for years, I finally decided this summer to make the leap.
I picked the end of September to move. Apart from the fact that this date coincided with the end of my rental contract in the UK, I wanted to arrive in Spain as much ahead of the Brexit leave date of October 31 as I could.
TAKE NO CHANCES WITH BREXIT
I figured that if I was going to make my home permanently in Spain, I should do this before Brexit, even though I would have only four weeks before the leave date. Research said the position for Brits after the UK left was uncertain, and I wanted to take no chances.
So it was during a family holiday in Dubai in August that I made the decision – and landed in Spain barely weeks later, on 30 September 2019.
Sometimes you know when you just have to do something, and I knew I had to do this now or possibly regret it forever.
After making the life-changing decision, I was left with just four weeks in which to find a place to rent in La Cala de Mijas, in Mijas province. I chose this town in this beautiful region of Spain's Costa del Sol as it was the where the charity where the charity I planned to volunteer was based.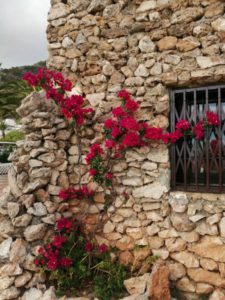 In that month or so, I also had to pack in and pack up my rented place, find the best way to take my beloved moggy with me and finally get on that plane!
And it is possible!
FINDING A PLACE TO STAY
I made a recce trip at the beginning of September to find an apartment to rent. After five days of traipsing around estate agents and hearing how high (think 1,200 euros a month for a one-bed apartment!) rents are because September was still peak holiday time in Spain, I found a spacious holiday apartment at a reasonable rent ten minutes away from the charity.
I paid a deposit and the agents reserved it for me for a month.
The next few weeks back home were stressful, not least because of finding the best way to transport my nervous tabby. I received quotes as high as £3k to cart my beloved overland over several days – why would I? – before finding out that Iberia would not only fly him, but would allow him to fly with me in-cabin – all for £45!
I also had to research companies to take some of my worldly goods to Spain, and again all the usual suspects like Pickford's came up with fantastic quotes over £1.5k, but in the end I found a friendly northern Elvis look-alike called Richard with a lorry who charged me £450 to transport around 370kg – bargain! And my goods, including the indispensable dishwasher, arrived within two days of my arrival.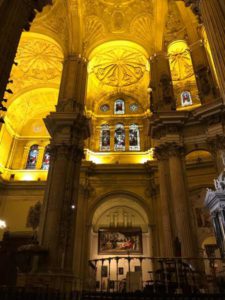 OBTAINING SPANISH RESIDENCY
Within a month of arriving in Spain – and after considerable running around – I obtained Spanish residencia! Although most of my first month in Spain was spent trying to achieve this, the rewards are worth it.
Once you have residencia, you are free to leave Spain and visit family in the UK or anywhere or go on holiday, as long as you live here for six months of the year.
With the residencia, you are also given your very own NIE number, which you need to work, pay bills, etc.
But obtaining it took every bit of energy I had and involved running from the town hall (ayuntamiento in Spanish) to the bank (to set up a Spanish bank account) to the insurance company (I needed private medical insurance as I was not working and did not qualify for government healthcare), back to the town hall, and all over again!
FOREIGNERS DEPARTMENT
The Foreigners Department at La Cala town hall are exceptionally helpful and are the ones I have to thank for obtaining my residency so quickly. Katja went all out to help me ensure I had exactly the right paperwork to present at my National Policia appointment on the day.
Although it can take weeks and even months to obtain residency, I got mine at my first appointment, and it was a huge relief.
Just when I thought I could relax for a bit, I found a job. I had not hoped to find work in my own field, and while still in the UK had found out that most jobs understandably go to the Spanish, and that one option open to Brits in Spain is teaching English as a foreign language. But thanks to a Facebook post on the Costa del Sol jobs page, I landed my job of choice.
Living here in Spain these past two months has been great. There has been almost continual sunshine since I arrived, bar a short cold spell, and I have made friends through attending church. I even have a Christmas party or two to attend!
One fly in the ointment as regards renting was that on the day I arrived in Spain, I found that the letting agents expected me to pay around five months' rent in cash. Because they did not inform me before I arrived that they needed the money in cash, I had to withdraw a large amount of cash using different bank cards which proved frustrating and expensive in terms of ATM fees.
MIND YOUR LANGUAGE
In terms of the language, I did not speak Spanish and so find the iTranslate phone app indispensable. The first sentence I learned was: Estoy buscando a mi gatos, which means 'I am looking for my cat'! The app also tells you how to pronounce what's its translated. So even learning Spanish does not seem impossible.
If you have been considering moving to Spain for a while, just do it. Even if something goes horribly wrong, you can go home, but it won't. Spain is kind to us Brits and the government and local authorities try to make living here accessible.
Buena suerte! Good luck!
SOME TIPS:
The British Consul in Spain advises citizens who have been in Spain longer than three months to register. Brexit makes this urgent anyway.
Your local town hall or ayuntamiento will help free of charge with everything official, like getting a NIE (Numero de Identidad de Extranjeros) number and being registered on the Padron. There is no need to pay websites like mynie.co.uk to do it for you. When you receive Spanish residency, you will automatically receive a NIE number.
Obtaining Wi-Fi – this has proved a challenge because some companies may not provide it where you live, or may not provide a short term contact (in case you are renting for six months). I found a great Movistar deal with 30GB mobile data and this is sufficient to enable working from home by tethering your phone to your PC.
If you have a pet, you will need to get them a pet passport in the UK which will mean them having a rabies shot. I was nervous to give my cat this but he suffered no ill effects. After the shot you have to wait three weeks before your pet can fly.
Storage in the UK: the cheapest option is using a friend's garage. Or downsize.
Using the services of a gestor asesores: if you plan to work freelance or be self-employed, this isn't a choice. A gestor will register you for tax purposes and will submit your invoices and tax returns for you. You will pay a monthly fee for this, normally around 50 euros.
Moving your car: I have not done this. I've been advised to sell my car in the UK and buy one here because when you transfer to a Spanish registration, you pay 16% of the value of the car. But others have done it, so if you want to hang on to your wheels, you could.
USEFUL WEBSITE for all information and news here in Spain the market leading publication www.euroweeklynews.com