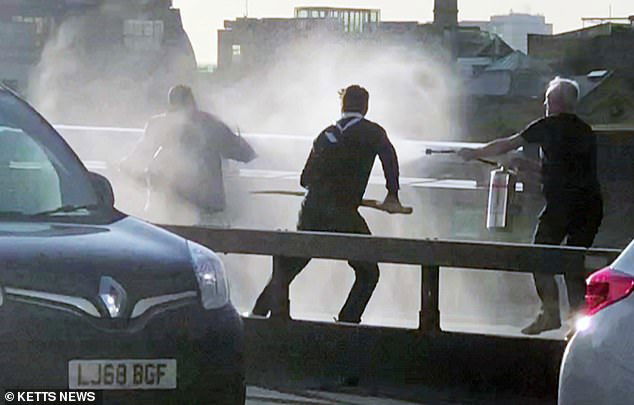 A MAN who battled the London Bridge terrorist with a fire extinguisher has been revealed as a convicted killer on parole and a close friend of victim Jack Merritt, who sadly lost his life in the horrifying stabbing rampage in the capital.
John Crilly, 48, was seen in footage spraying Usman Khan on the bridge last Friday (December 29) after the extremist fatally stabbed Cambridge University graduates Saskia Jones, 23, and Jack Merritt, 25, at a prisoner rehabilitation conference in Fishmonger's Hall.
Mr Crilly, who has been named by The Sun, was released on parole last year after serving 13 years in prison. He was sentenced to life with a minimum of 20 years in 2005 for his part in the robbery and murder of 71-year-old Augustine Maduemezia in Manchester.
He was convicted of murder under joint enterprise, which is used to prosecute individuals even if they did not strike the fatal blow. However, his conviction was quashed after a Supreme Court ruling and was subsequently released in 2018.
Crilly, who has blamed his years of criminality on herorin addiction, was able to serve four years at HMP Grendon, which sees the implementation of therapeutic community principles to rehabilitate inmates.
Here, he wrote to Sir Brian Leveson, the judge who passed his sentence, while behind bars, inviting him to visit him in prison. Speaking after the meeting, Sir Brian wrote an article which was shared by The Justice Gap. It said:
"I sentenced him nearly 10 years ago after he was convicted by a jury for his part in a joint enterprise single-punch murder of an elderly home owner during the course of a robbery in which he did not personally use the fatal (or any) force.
'At the time he was addicted to heroin. Perhaps understandably it has taken many years to come to terms with his guilt but Grendon has helped him do just that. Today, John seems to fully acknowledge responsibility for the death of another human being; he is clear of drugs and appears to be headed in the right direction.'
Mr Crilly had also met Mr Merritt while in prison, where the graduate was working as a course co-ordinator for the Learning Together programme at the University of Cambridge. He had also studied for an Open University law degree while in prison and graduated this year.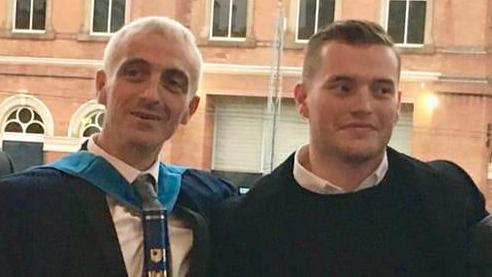 Following the incident, Mr Crilly spoke highly of his friend, saying Mr Merritt attended his graduation and was the "best guy I ever met". He said on Facebook:
"(Jack) was killed by a pathetic rubber dingy rapids type terrorist.
"Jack actually tried helping this guy!
"To educate him. As he educated me.
"Jack came all the way from Cambridge to be at my graduation…
"How proud am I to be called Jack Merritt's friend."
On Monday, Jack's father, David Merritt, said that his son would be livid if his death was used to further an agenda of hate against prisoners.
Other members of the public have also been praised for their heroic acts after the terror attack, including 38-year-old Lukasz Koczocik, who fought Khan with a a 5ft-long ceremonial lance ripped off the wall of Fishmonger's Hall.
Have just seen this.Highlights just how frenzied and dangerous this terrorist was. These three men must be up for the George Medal at the very least. Potentially many lives saved by a fire extinguisher, a whale tusk and valour. #LondonBridge

— Clive Allan (@clive_allan) November 30, 2019