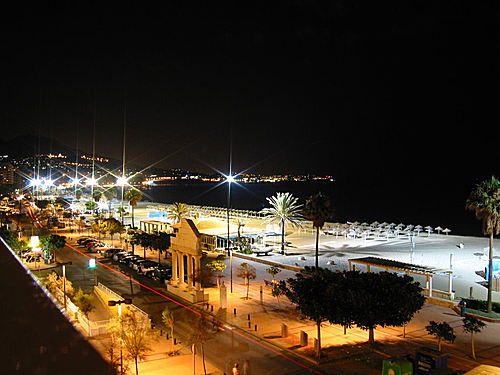 LAST night we reported how a Danish woman threw herself into the roaring seas in Fuengirola on the Costa del Sol in Spain.
The unnamed Danish woman who had drunk a quantum of alcohol throughout the day threw herself into the high waters, resulting in emergency services launching desperate rescue.
The distressed women was bravely saved by the emergency services and is now in Costa del Sol hospital Marbella in intensive care receiving treatment for both alcohol poisoning and symptoms of flooded lungs associated with drowning.
Eyewitness Stephanie from Brads Bar in Torreblanca described exactly how the events unfolded.
"I was working my normal shift and we had a Danish gentleman in all day who had a few too many to drink and fell asleep in the bar – around tea time a Danish lady who apparently shares an apartment with the man, stormed into the bar and started shouting and swearing at him before hitting him to the head and knocking his hat off, whilst then departing quickly with a finger in the air shouting " f….k you f…k you" as she walked up the road.
"I asked the Danish gentleman if it was his girlfriend to which he said no – although he said he was sharing an apartment with her. Later in the evening the woman returned and came up and asked for a glass of wine, she was clearly very worse for wear and I refused her the drink, to which she started shouting and swearing at me and accusing me of having an affair with her husband, it was all very embarrassing and confusing.
"She turned and started abusing the gentleman as well as others in the bar – before proceeding to the bar next door who accepted to serve her and poured her a Bloody Mary. She then in Danish started shouting across again in Danish to the associated gentleman was making hand gestures to him."
Stephanie went onto explain: "We then saw her run across the road towards the beach in a hysterical type of manner thinking she was heading home – never thinking she would do as she did."
Another eye witness named Neil Evans who was walking on the beach with his dog, told Euro Weekly News "I was walking peacefully along the beach when out of the blue came this crazy woman shouting and screaming with her hands in the air, she didn't stop and just ran into the sea and threw herself into the large waves that were hitting at least 6 feet high, all I could see was that she didn't come back up and so I called the emergency services immediately."
Neil went onto say: "I could hear the sirens coming and then I spotted a body washed back in so myself and other bystanders pulled her unconscious from the water, shortly the emergency services arrived and started administering rescue treatment and what looked like getting her breathing again – the emergency services were fantastic and soothed her in the ambulance and off to hospital whilst police took statements/"
Finally Andrew Bradshaw who owns the popular beach from bar said: "I could not make her or tail of what was going on, or who was who – the Danish chap wasn't that bothered went the ambulance went off – he just asked for another pint!"
"It was certainly a crazy evening an not something we are used to said Bradshaw."