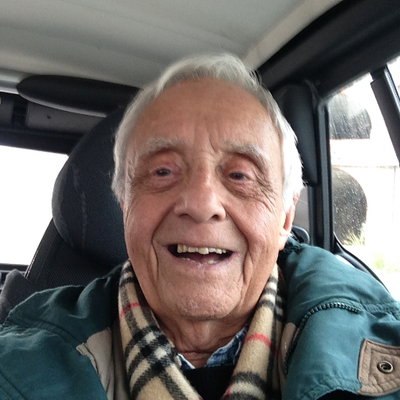 COSTA del Sol dog legend and much-loved member of the EuroWeekly team, David the Dogman, sadly passed away last Friday, after a lengthy illness.
David boasted an avid fan base as an EWN columnist, sharing a lifetime of experience in the dog training industry.
Originally from Nottingham, he was an acknowledged leading behaviourist and people canine educator. An Honorary Life Member of the British Police Services Canine Association, he was the Administrator for the association's forum.
"Dogs have always been my life," he once confessed.
David started his career in Israel in 1953, with the Israeli Border Police K9 Section. He was involved in all forms of dog training, including air-sea rescue, air scent work, and drug and explosives detection. When he returned to England, he joined the family business.
The name 'dogman' comes from the police as they always say: "Get the dogman," David revealed during an interview. "That's how the name developed."
At 48, he retired to Spain and with the support of his devoted wife, Susan, dedicated his full attention to the second love of his life, dogs.
The Dogman used all his experience and invented the silent dog training system that centres on what he called 'silent socialisation'.
His unique style carried an effective, time-tested approach. "It takes 10 minutes to have any dog under my complete control, and this includes showing its owner how to handle it."
David emphasised that the biggest difference between his style and those used by others was his passive approach.
"Too many trainers use aggressive training methods that are out of date. I delve into the psychological side of training."
David was a guest on Spanish sport radio station, Onda Cero Radio and Gibraltar GBC for many years, appeared on many TV shows, and wrote for publications around the world, as well as a weekly column for EWN.
Ill health forced him to retire from giving lessons in 2008 after 50 years of pioneering work in the dog training industry – although he continued running his radio show on Talk Radio Europe and writing for newspapers and magazines worldwide.
On his retirement, he gave a special mention to EWN Media publishers Michel and Steven Euesden: "I wish to thank Michel and Steven for their support they, and others at Euro Weekly News, have given me over the years. I consider them as friends and it is rare to find friends like Michel and Steven. I have one word for Michel: Boss. She always called me 'The Boss'."
David's interests also included playing the piano and organ. In the 1970s he appeared in the Guiness Book of World Records for non-stop playing on the organ to raise money for charity – an impressive 51 hours.
He was given Civic Receptions in Nottingham and Mansfield in recognition of his charity work. And in December 1973 he was presented with an illuminated Scroll by Commander Sir Philip Franklin Lord Lieutentant Of Nottinghamshire on behalf of the people of Nottingham and Nottinghamshire.
Four years later, David founded The Nottinghamshire Hospice, after being approached by medical members of a Freemasons Masonic Lodge to head a group to establish a cancer hospice in Nottingham.
He later became founder of a Masonic Lodge in Spain having been involved in Freemasonary in London and Nottingham for over 40 years.
He also helped form an action group to help retired people on the Costa del Sol who had been ripped off by con-men purporting to be licenced Financial Advisors.
*At the wishes of David and his family, a funeral service will be held in the UK.