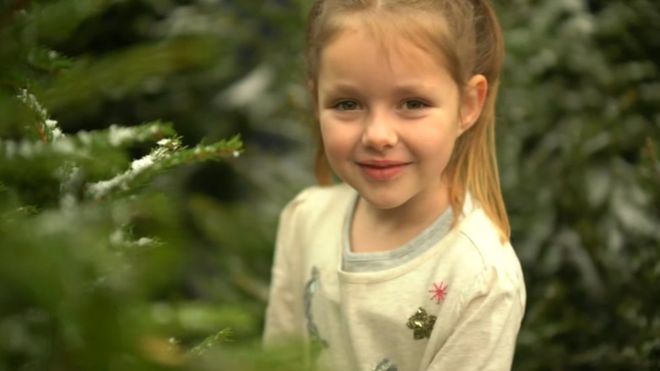 A SIX-YEAR-OLD English girl who survived a brain tumour has hit the top spot in an Amazon music download chart, pushing Stormzy out of the way.
Lyra Cole, from Highbridge in Somerset, covered the Christmas classic When A Child is Born, performed by Johnny Mathis in 1976 – a number one hit 43 years ago, for Brain Tumour Research.
Lyra was diagnosed with a Brain tumour and underwent emergency brain surgery aged six months.
Lyra's mother, Ellie, said her daughter's tumour had grown to the size of an orange before it was removed.
Lyra and her family chose to raise money 'creatively' on behalf of the charity which helped her when she had the emergency surgery.
Lyra with her aunt, Jessie Hawkins, chose the song which was originally written by Fred Jay for Boney M and was recently covered by Cliff Richard. It was the latter version, as Euro Weekly News understands, which inspired Lyra.
The song is now topping the Amazon download chart.
A tweet by Neal A'Barrow with the video of the number one hit reads:
Lyra Cole – When A Child Is Born. Charity single this Christmas to help fund @braintumourrsch Download for 99p on@amazonmusicand @iTunesNOW!! #fundraiser #charity Story, Video, Donate: braintumourresearch.org/lyra-cole PLEASE RETWEET – ONLY 99P ON ITUNES & AMAZON MUSIC
Lyra Cole – When A Child Is Born.
Charity single this Christmas to help fund @braintumourrsch. Download for 99p on @amazonmusic and @iTunes NOW!! #fundraiser #charity

Story, Video, Donate: https://t.co/d1qn4xz1vb

⚠️ PLEASE RETWEET – ONLY 99P ON ITUNES & AMAZON MUSIC ⚠️ pic.twitter.com/ZjzMeDLNpf

— Neal A'Barrow (@neal75abarrow) December 3, 2019