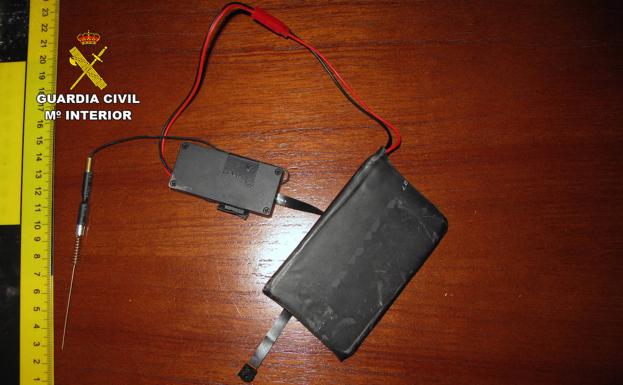 A MAN has been arrested for videoing women in the toilets of a café and in the bedroom of a house in Águilas
The defendant, a 47-year-old man, allegedly installed a hidden video surveillance system to obtain intimate images in real time.
Guardia Civil launched an investigation in Aguilas initially for attempted burglary.
Local Police had been called to an address in the town when a woman requested police presence after finding a stranger in her home.
Apparently, the owner of the property had left the house but returned a few minutes later and surprised a man as he left her bedroom. He told attending police that he was doing an inspection related to his work as a lift maintenance technician, although he was arrested accused of attempted burglary.
But investigating Gyardia Civil officers who latger arrived at the scene were surprised at the neat and tidy condition of the property and could find nothing stolen.
Suspicions aroused they carried out a close inspection and found hidden in an air-conditioning grid an integrated video system.
This consisted of a microcamera, a battery and a central unit or CPU that housed a micro SD card for digital storage, as well as a transmitting antenna that allowed the remote vision of the images, in real time, from tablet type devices or 'smartphone'.
The video capture system was covered with black insulating tape and the wiring used to connect the various components was the same as that used for standard air conditioning connections, so at first glance it went completely unnoticed, even after opening the grille of the air conditioning duct.
The seized electronic device was analysed, with the discovery of several recordings of the room, as well as others taken in what appeared to be a public toilet.
From that moment on, the researchers focused their efforts on locating the establishment where the imaging device had been installed, which they eventually did.
The result of the investigation was brought to the attention of the courts and a warrant was issued to search the suspect's home in Mazarron.
A laptop computer, two removable storage units, five micro SD storage cards, two mobile phones, a tablet and a DVD were seized.
The arrested person and the effects seized have been put at the disposal of Court of Instruction number five in Lorca. He has been charged with nine crimes of invasion of privacy and one of breaking and entering.