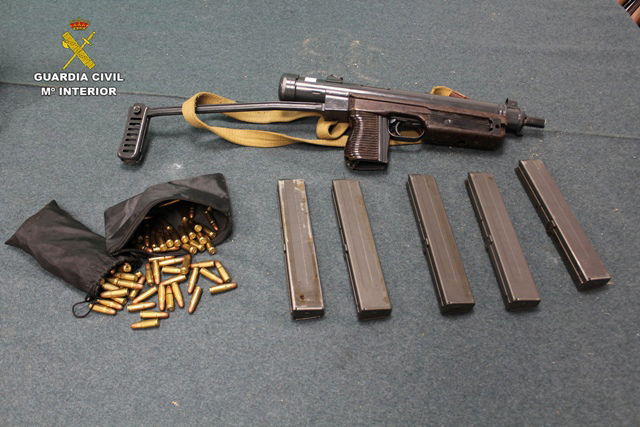 A BOMB making factory and arsenal of weapons including an assault rifle and sub-machine gun have been found by Guardia Civil officers in what they call one of Spain's biggest ever seizures of home-made explosive devices.
In total 17 bombs, materials to make many more, 26 firearms, bulletproof vests, silencers and more than 2,800 cartridges were uncovered by Spanish police.
One person has been arrested and charged with arms trafficking and various offenses relating to possessing weapons of war, ammunition and explosives.
The clandestine workshop and arms dump was uncovered in Miranda de Ebro (Burgos). During Operation Tangerina. It was fully equipped with for the manufacture of improvised explosive devices, as well as for the handling of firearms and the manufacturing of ammunition.
Seventeen of these devices, already assembled and loaded, have been seized, many of which had been hidden in a community garage. In addition, more than 30 kilos of different chemical substances used to make explosives and laboratory material (test tubes, flasks, precipitation containers, etc.) used to manufacture them have been seized.
Police also found that the detained person had acquired firearms from Eastern European countries which were in poor condition.
He then renovated the arms to make them fully operational. These weapons were illegally introduced into Spain via the mail.
As such they were not registered on the national database and could be diverted to the illegal market or used in criminal acts with complete impunity.
Given the fact that some of them are war weapons, both in terms of their calibre and their automatic fire capability, the reactivation of this type of weapon and their illegal possession pose a serious risk to public safety, said Guardia Civil.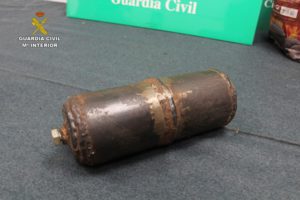 This operation is part of the Comprehensive Plan for the Control of Firearms (PICAF) of the Guardia Civil, which, as the national corps exclusively responsible for the control of arms and explosives, exercises exhaustive control over them and is ever watchful for this type of illegal activity.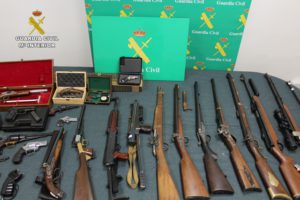 A Guardia Civil statement said that this operation has prevented not only the high number of explosive devices and weapons seized from being used in violent acts or diverted to the black market, but also the risk posed to neighbours of an accidental explosion during their manufacture and handling.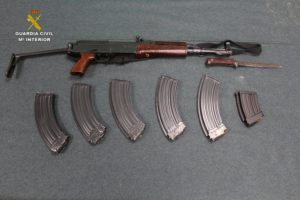 The statement continued: "The possible links between arms and explosives trafficking and terrorist organisations make the fight against this threat one of the priorities of both the national security strategy and the European Union.
"For this reason, the Information Headquarters of the Guardia Civil has been making a constant effort to detect and neutralise illegal supply channels, as evidenced by the fact that in the last five years the Information Service has developed more than 37 operations against arms trafficking networks with the result of 336 people arrested, more than 3,534 firearms seized (many of them military grade) and 386,427 cartridges seized."