It was never in doubt. Brit Lewis led every lap. Hamilton had done it: his 11th race win of 2019, with the drivers' title already wrapped up. It was a phenomenal performance. Some pyrotechnics fired up on the final straight as the celebrations of the season came to an end in Abu Dhabi.
Hamilton finished first, Verstappen second, Leclerc third, Bottas a brilliant fourth having started last on the grid.
Someone on the radio from the Mercedes pit lane summed it all up "Get in there Lewis, what a drive … you didn't even break into a sweat with that one."
Hamilton replied: "I can assure you I am sweating. What a race, what a weekend. I just want to say a huge thank you to everyone here, and back home. I gotta say … this one's for the fans."
This was the first December held Grand Prix since 1963 and after a long season Mercedes and Lewis Hamilton celebrated in style spinning doughnuts on the track in front of race fans.
When he eventually got to the podium he threw the trophy aloft in pure celebration spirit.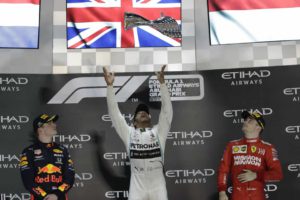 It's been an amazing achievement by Hamilton and his Mercedes team. Can the Briton win another one next year, and draw level with Michael Schumacher on seven drivers titles is now the big question?
Meanwhile Vettel was in sarcastic mood when asked "How do you feel about the season?" he replied"I feel like I want to go and get changed now, but instead I have to stand here and answer your questions. I'm only being honest."
Whilst Bottas was pleasantly pleased with himself after starting at the back of the grid in the other Mercedes. He said "It was a pretty tough race, I was giving everything I could, but I have to say it was pretty good fun, coming from the back. It wasn't the easiest, without any DRS in the first 20 laps … but I feel I couldn't have done anything more, I gave it everything and that's what matters."
Speculation was rife all weekend though that Lewis Hamilton was off to join Ferrari after he admitted he wants to join the Italian giants before he ends his career – Totto Wolf admitting at this stage there was a 25 percent chance it could take place before next season.