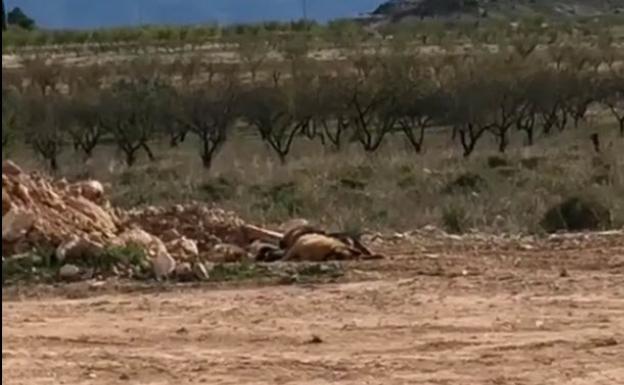 MEMBERS of an animal welfare organisation found the tortured bodies of four dogs between Alcantarilla and Barqueros in Murcia. The dogs were found with their hind legs tied and ropes around their necks, with clear signs of strangulation and beating.
The macabre find occurred after a person alerted the animal welfare group Paes and Almohadillas Felices and said that they had seen the stacked bodies of four dogs. The man had been fixing a tractor wheel when he saw animals piled up in the distance. At first, he thought they were sheep but as he approached, he discovered they were large dogs. By evening, members of the animal association found the dogs in shallow graves on a plot of land close to the RM-C1 road.
When they arrived, they came across four mounds where the dogs were buried. They saw clear signs that the dogs had been strangled and beaten to death, with serious blows to the head. A German Shepperd had a wound on his spine, possibly caused by a knife.
Paes and Almohadillas Felices assured the dogs died from the brutal acts and placed a formal complaint at the Guardia Civil station. Guardia Civil officers interviewed the landowners' son, who claims he found the dogs already dead and only buried them to avoid the smell.