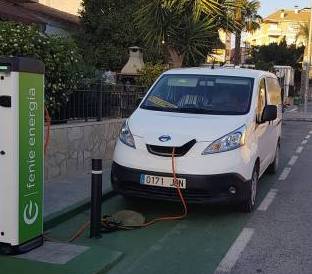 DRIVERS of electric cars in los Montesinos on Spain's Costa Blanca now have a charging point thanks to a grant from thee Valencian Institute of Business Competitiveness (IVACE).
The organisation handed over €5,878.40 towards the €8,891.08 cost of the facility in Avda. de La Marquesa, number 12, right in front of the town hall.
Town mayor José Manuel Butrón said : "This recharging station will encourage the population of Los Montesinos to change from a conventional vehicle to an electric vehicle. Also the town council, which is studying the possibility of renewing its fleet of vehicles going towards more sustainable uses, may benefit from this recharging point that will serve for new purchases of electric vehicles."
For her part, the councillor for Development and the Environment, Ana Belén Juárez, alluded to the 2030 Objectives for sustainability. She said: "We are a committed municipality and we demonstrate this not only with words but also with deeds. We have to be responsible and support the sustainability of our planet because it is the only one we have and we owe it to future generations." said Juarez.