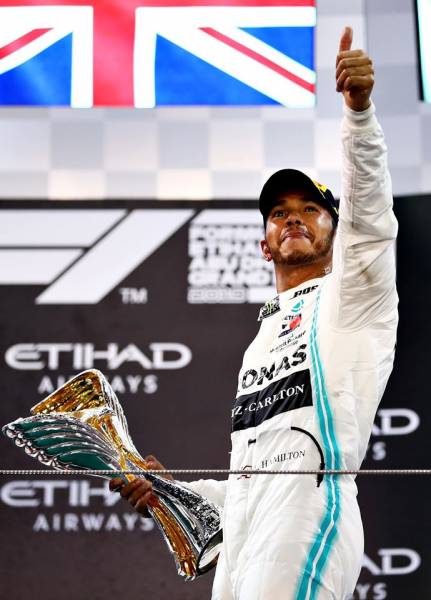 THE ENGLISH born F1 superstar produced a dominant lights-to-flag victory in Abu Dhabi to close a title-winning season in commanding style.
Such was the authoritative display behind the wheel that Max Verstappen asked only partly in jest whether Hamilton could have slowed down to give others a chance. Hamilton seized his 11th win of 2019 in style, taking the chequered flag almost 17 seconds clear of everyone else.
In Lewis' own words as posted on Facebook:
"What a way to end the season. I'm so grateful to my team Mercedes-AMG Petronas Motorsport for the hard work they have put in this year, constantly raising the bar. But above all, thank you #TeamLH for your support. The positivity you give me is overwhelming and I feel your love from all around the world. We did it guys. 🙏🏾 #wewinandwelosetogether"
The display of mastery behind the wheel during the season-ending race in Abu Dhabi also offered a tantalising glimpse of what lies ahead for next season with the two 22-year-old prodigies in Max Verstappen and Charles Leclerc completing the podium and serving notice that they will press Hamilton far harder next year.
With Hamilton's potential move from Mercedes to Maranello in 2021 also under the spot-light.
As Euro Weekly News understands, Lewis, at 34, earns a record £40 million a year at Mercedes, but Ferrari, who still boast the most lavish budget of any team despite recent under-performance, are capable of blowing even that figure out of the water.
Negotiations aside, Lewis Hamilton and Mercedes – achieved a dominant victory at Abu Dhabi to end a commanding season. Hamilton is currently nominated for the Sports Personality of the Year award, although cricketer Ben Stokes may prove to be stiffer competition for Lewis there than fellow drivers on the F1 Circuit.