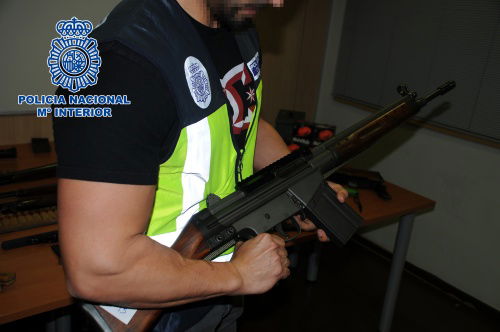 A WEAPONS and ammo stash including an assault rifle has been discovered by police in Barcelona, Spain.
Agents of the National Police have arrested in Martorell a Spanish man for his alleged participation in the crimes of possessing weapons of war and ammunition. A search of his home had revealed eight had guns and eight long-barrelled weapons, silencers, telescopic sights and equipment to covert semi-automatic weapons into automatic ones.
In addition, the detainee had a workshop equipped to convert legal weapons into illegal ones,police say.
The operation was made possible thanks to international police cooperation following thorough analysis of information from Europol by National Police officers.
The investigative work revealed that the detainee, who holds several weapons licences, had been acquiring devices with the aim of modifying the firing system and so transforming small arms into machine pistols capable of firing with a burst of bullets. Once modified the weapons were capable of firing at a rate of 1,100 cartridges a minute.
The investigations, carried out by the heads of the coordination point of the General Information Commissariat for the prevention and investigation of illicit trafficking of firearms in Spain, found that the acquisition of these converter pieces was made through the Internet, with them being mailed into the country.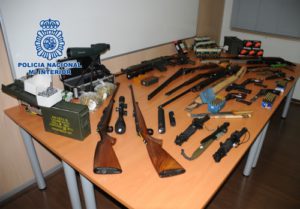 The operation is part of the European Union's security strategy, which considers the prevention and fight against illicit trafficking in arms, their parts and essential components to be a priority.
Spain's National Police make a concerted and incessant effort to detect possible routes used for the illegal trafficking of firearms and ammunition, preventing them from ending up in the hands of people linked to organised crime and terrorism.
The investigation has been directed by Instruction Court number 1 of Martorell (Barcelona) and carried out by agents of the General Information Commissariat, in collaboration with the Provincial Information Brigade of Barcelona.