The Euro Weekly News is the largest media ex pat outlet in Spain for all the latest news in Murcia Today
With a wide team of journalists covering the region bringing you all the latest Murcia news as and when it happens – as well as all up and coming events – the Euro Weekly News is the leader of Murcia news 7 days at week.
The Euro Weekly News has been firmly established for over 20 years covering the Murcia region with both our informative website www.euroweeklynews.com as well as over 500,000 newspapers read weekly, that cover 6 regions of Spain with Murcia area having its own edition known as Costa Blanca South delivering all the latest news and events in Murcia not just today but every day!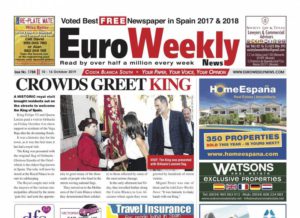 The Euro Weekly News was voted the best free newspaper in Spain both in 2017 and 2018 and is also your perfect advertising solution to reach ex pat customers in the Murcia region.
If you want the latest from Murcia Today simply visit our website www.euroweeklynews.com or pick up a copy of our title at any of our many collection points across the coast.