With nearly 9 million poinsettia plants ready to leave Spanish greenhouses, we take a look at the story of the Christmas flower that isn't a flower at all.
The poinsettia plant rooted itself in Spanish culture thirty years ago and one of the most popular Christmas decorations. With its winter flowering leaves in a deep red colour, the plant can be found in homes, offices and shopping centres all over the country.
This plant is the domesticated version of a wild tropical shrub that became popular in the US a century ago. All the plants sold in Spain come from mother plants grown in Africa: cuttings arrive by plane to Spanish nurseries. A quarter of all poinsettias are cultivated in Almería, where the warm winter allows them to be grown under plastic without the use of additional heating.
Now, a wide variety of colours and shapes are hitting the expanding market. And gardening experts hint they can last from one Christmas to another, you just have to know how to take care of them!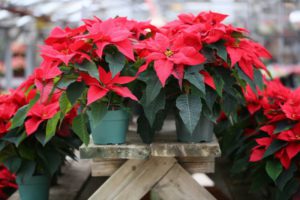 The species was first globalised by Joel Robert Poinsett, a politician and fervent botanist who first saw the plant when he served as the US ambassador in Mexico. Fascinated by its beauty, he began growing them in South Carolina when he returned home, thus giving the bush its popular name.
Known as the 'Flor de Pascua' or Easter flower, the poinsettia has found the perfect climate in Andalucía. Starting with the rise of the poinsettia in the sixties, many farmers in Almería swapped tomatoes and peppers for the ornamental plants. The province produces around 2.5 million poinsettias, know scientifically as 'Euphorbia pulcherrima', every year.
The poinsettia is generally known as a very delicate plant to deal with. During growth it requires a lot of light, but never direct sunlight. It doesn't like the cold or the heat and it hates brusque changes in temperatures, central heating and cold drafts. A dish with a little water is enough and if the water touches the leaves, it rots and dies.
However, it can be quite resistant. If leaves start to fall after Christmas, do not panic. Prune the plant a little and let it rest for several weeks. Once the temperature is warmer, it can go outside in protected areas and if planted in soil, it can sometimes grow up to 4 metres.