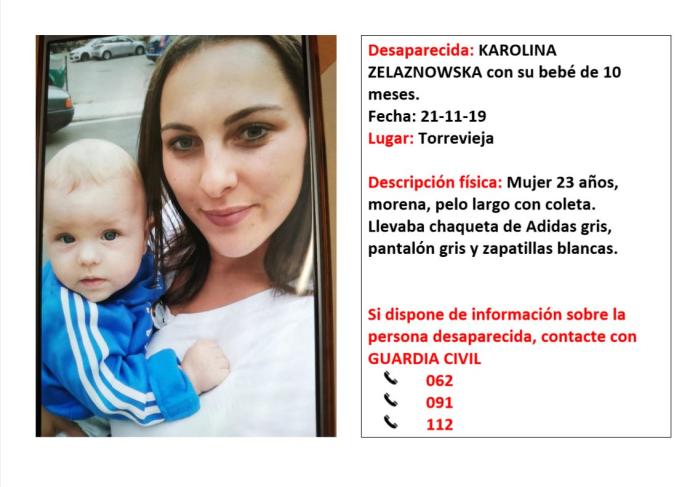 POLICE are searching for a young woman who was under protection for gender violence who has disappeared from Torrevieja on the Costa Blanca with her 10-month-old baby.
Karolina Zelaznowska, 23, was being monitored by the protection service for victims of male violence (ATENPRO) when she vanished from Torrevieja bus station at around 3 pm yesterday (November 21).
The Generalitat Valenciana regional government, at the request of the Guardia Civil, has released a photo of the woman and baby on its Twitter account.
She was wearing an electronic bracelet that allows her movements to be monitored so police can immediately find her if needed. But the signal was lost in the vicinity of the bus station.
Zelaznowka is described as having dark long hair, usually worn in a ponytail, and at the time of her disappearance, wore a grey Adidas jacket, grey trousers and white shoes.
Police say they are keeping all options open, including that she has voluntarily disappeared.
She was reported missing by her parents at around 8.30 pm, when they had had no news from her since 3 pm when they went for a walk.
Sources close to the case have indicated that it is known that at 12.40 am this morning the woman activated her mobile phone and read several WhatsApp messages, although she did not answer any nor did she answer phone calls.
Her former partner is thought to be living in Germany, although no further details of his situation have been provided.
Anyone with information should contact the Guardia Civil on 062, 091 or 112.