The Andalucían government is set to approve new laws naming Driven Hunts as Assets of Special Cultural Interest, thus protecting and promoting the practice.
Over 200,000 people have signed a petition calling on the Andalucian government not to permit this type of hunt. Driven Hunts consist in a line of beaters and their hounds walk through the undergrowth, pushing the game directly towards the waiting hunters. When forests are driven, it is natural that many game species are flushed out. Wild boars are at the heart of this type of hunting, but deers, stags and pheasants are also possible depending on the area.
Now, Andalucia's Popular Party and Ciudadanos (Citizens) are collaborating to approve the hunt as a 'cultural interest,' outraging animal lovers across the country. They want to pass a law stating it in the public interest to pass laws for hunting animals in confined spaces, ensuring that hunters will land a catch. This will mean the practice will have preference for its diffusion and the granting of public subsidies. Hunters will pay between €100 and €10,000 to take part in these animal festivals.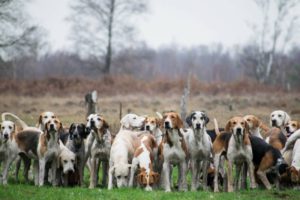 Currently, driven hunting reaches 2,100 events per year in Andalucía, with hunters taking deer, wild boars and roe deer as their prey. Under the new law, the use of hounds will also receive protection.
In Andalucía, 81 per cent of land is approved for hunting, ten per cent above the national average. Last year, 193 of these events were celebrated in Cádiz and a further 440 in Granada.
The change in legislation is highly criticised by Ecologistas en Acción (Ecologists in Action). They say that hunting will take preference over hiking, enjoying nature or research. Ecotourism would suffer grave consequences, as public trails and walks are cut off with increasing frequency for exclusive hunting use.
And protecting Driven Hunts is not the only measure that the coalition government is willing to adopt. Both PP and Ciudadanos have pledged to promote programs that will promote hunting in schools. In October, and agreement was reached with Vox to approve budgets for the new initiative. The document signed by the three parties included promotion and funding for hunting and bullfighting.