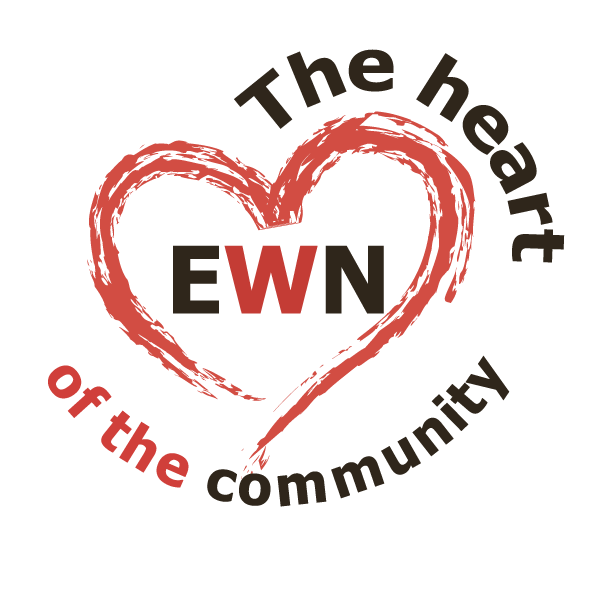 On a sunny autumn afternoon at the AECC centre in Fuengirola, Knitted Knockers celebrated the presentation of a generous donation from La Cala Lions. Euro Weekly covered the event and was able to see first-hand the women's amazing work.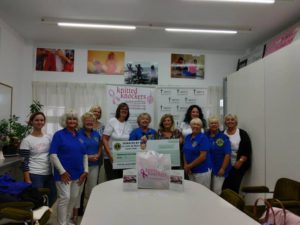 The fantastic €1,000 donation is funding brand new Knitter Knocker Kits that will be distributed among Spanish Cancer Associations across Andalucía. The thoughtful kits include samples and ten pairs of knitted knockers as well as booklets explaining their work. The kits look to reach women with breast cancer all over Spain. Maria Bailey, president of Knitted Knockers, has already launched them in Seville and will continue the expanse.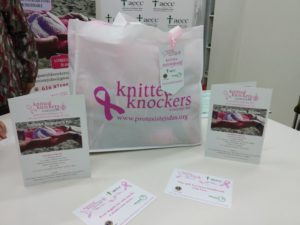 Made with love
Maria explained why it's so important to reach these women: "I was at the Spanish Cancer Association Congress in Seville and we set up a Knitted Knockers stand. One woman with breast cancer came up to us and asked about the knockers. She had never heard of us and couldn't believe it! We offered her a pair and asked for her size. She just took out her silicone prothesis and showed us, she was that ecstatic!"
Maria continued talking about the amazing benefits of the knitted breasts: "The thing with silicone is that it makes you very sweaty and it's very heavy. Our knitted knockers are light and hypoallergenic. A lot of women who wear silicone suffer with back pain in the long run."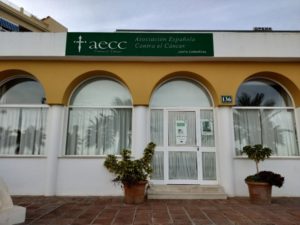 AECC Centre
The inspiring group met up at the Spanish Association Against Cancer (AECC) centre in Fuengirola, where Vice-president Paloma welcomed us and was eager to explain the amazing services the centre provides for cancer patients across the province. She spoke fondly of Maria: "This project is fantastic. When I first heard about it, I thought it was such an amazing idea. What we did was put Maria in contact with the hospitals and patients. Our job is to help her reach women with breast cancer who need her help."
Paloma highlighted the work they do at the AECC. The centre offers the services of a psychologist, physiotherapist, a social worker and 200 volunteers. The volunteers take care of patients in hospitals, at their homes and also offer transport when necessary. Paloma also showed Euro Weekly the new beauty facilities they have incorporated in the centre.
She said: "We offer so much help to cancer patients. They can come to us with any problems. We also help people economically if they need it or take them to hospital if they can't get to their appointments. Tomorrow, I'm going to visit three women with breast cancer who are going to be operated on. I take them a special AECC gift and let them know that we are there for them."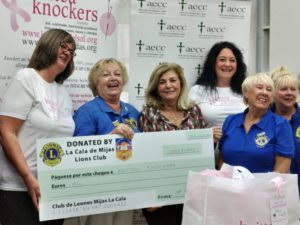 La Cala Lions donation
Smiles were abound as the women posed, check in hand. The air was jubilant and Paloma and Maria broke into song. "Amigas para siempre!" they sang, celebrating their friendship. La Cala Lions were cheerful and happy with their good work. Anita Humphreys, president of the Lions, explained the amount of charity work the Association does: "We raise around €80,000 per year for different charities. If people want to support us, we have an upcoming Christmas Fayre on November 30."
She also mentioned their shop: "La Cala Lion Shop is run by our members and it makes an amazing amount of money for the charities we support."
As the presentation ended, member of the Knitted Knockers had already started knitting. The Association is growing every day in size but funding is beginning to be a problem. Maria said:
"The beauty of our knockers is that they are made by women for other women."
She continued: "But going forward we are growing and growing. More women are using our knockers and getting to know us. Our new campaign is reaching the Spanish community and Spanish women with breast cancer. But as we grow, we need more funds to keep up with the demand!"
Euro Weekly has always supported Knitted Knockers and has donated to the cause. You can also visit http://knittedknockers.org to get involved in the cause!
The AECC also does amazing work for cancer patients, visit their online page for more information http://aecc.es
Visit the Cala Lions page to get to know them https://www.e-clubhouse.org/sites/mijaslacala/