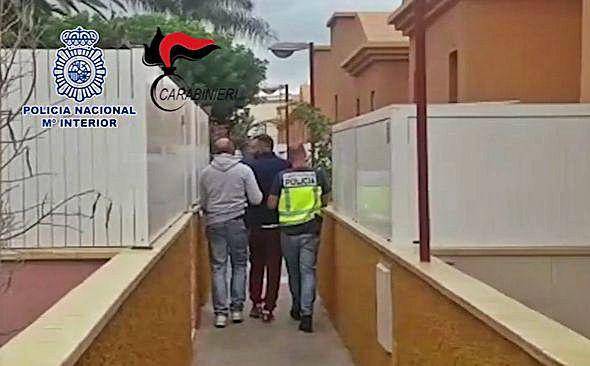 AN Italian man allegedly the leader of a violent group called "the Fourth Mafia" has been arrested in the Canary Islands.
Police say the mafia clan is known for its high levels of violence and cruelty, with members favouring AK-47 assault weapons and 12 bore shotguns as weapons of choice.
He was wanted on a European Arrest Warrant issued by the Italian authorities on multiple drugs charges involving caches of cocaine, hashish and marihuana.
Police say he also acted as a link between his organisation and other Italian mafia clans.
He was arrested in San Bartolomé de Tirajana (Las Palmas) as part of the Italian police's antimafia operation "Neve Di Marzo".
The arrested man was wanted for being one of the most notorious members of the Fourth Mafia", located in the city of Vieste, province of Foggia in Italy.
The gang has a long criminal record with more than 300 deaths attributed to it in the past 40 years.
Among them are thought to be the murder of the gangsters Mario Luciano Romito and his brother-in-law Matteo de Palma. It happened in August 2017 when a van approached the black Volkswagen that was driving on a provincial road in Lamis and in which Romito and De Palma were travelling.
Several people opened fire with Kalashnikovs and killed both men.
Two passers-by, who had nothing to do with the organisations but who witnessed what happened, also lost their lives.
The ringleader arrested in the south of Gran Canaria acted as a liaison between his organisation and other Italian mafia groups, such as the gang La Gargánica and even Albanian criminal organisations.
During the arrest of the man a search was carried out in the home of the ringleader, located in the street La Gloria in San Bartolomé de Tirajana . Different effects were found that demonstrated the relationship of the investigated with the mafia organisation, according to police.
The search was carried out with the collaboration of two Italian police officers from the Arma dei Carabinieri. They say important documentation demonstrating the link of the detainee to the Fourth Mafia was found, say police.
The Fourth Mafia, which until three years ago had gone practically unnoticed in Italy despite its 30 years of history, is considered by the Italian media as "the new Gomorrah". An article published by the magazine Panorama pointed out that 'ownership' of the group is transferred as an inheritance "or as a disease" between parents and children.
And it pointed out that the way the gang finances itself is not limited exclusively to drug trafficking; extortion also exists.
"All builders have to pay. Other merchants even do it without having received any kind of threat in order to obtain protection before suffering any kind of attack. They also have illegal businesses in waste management, slot machines and illegal hiring," according to Panorama.