This week Celebrity & Fellow Master Chef Steven Saunders, proprietor of The Little Geranium in La Cala cooks a gluten free Christmas pudding for his countdown to Christmas!
IT is little more than a month until Christmas but are we ready? As a chef I need to plan ahead for each month and my plans for Christmas will include some gluten free options for the first time this year.
Many people are gluten free these days it seems. A percentage of them will not be totally gluten intolerant and many might just enjoy the lifestyle of eating food without flour. Gluten intolerance is a disease called Celiac disease.
If a celiac eats the tiniest morsel of wheat it will trigger an immune response in their small intestine. Over time, this reaction damages their small intestine's lining and prevents it from absorbing some nutrients (malabsorption). The intestinal damage then often causes diarrhoea, fatigue, weight loss, bloating and anaemia, and it can lead to serious complications.
There's no cure for celiac disease – but for most people, following a strict gluten-free diet can help manage symptoms and for those reasons we take it very seriously at The Little Geranium and even have a separate section of the kitchen so that no cross contamination from wheat is possible.
One of our close friends, Olivia is a young lawyer living over here on the coast who adores great food but told me once that she could not eat out as often as she liked because most of the Spanish restaurants did not take her illness seriously or did not understand it.
"Come to me," I said and she did and from that day on she has been a regular diner and a good friend. In fact, her illness has made us all think about how we could improve things for other gluten free diners and so we started making gluten free breads, desserts and pastries.
It's not much different in taste so if we don't get asked for gluten free, we use it for the normal menu and no one ever knows! For example, my home-made walnut and almond bread made with almond flour is delicious and so is my gluten free pastry that wraps around Galician beef to make beef wellington.
I make a chocolate brownie sponge using rice flour and we never use flour in any of our sauces, we follow traditional reduction of the stocks so that no unnatural thickening is required.
So, Olivia has helped us to focus more on this and become more aware of using flour when we don't really need to. Wheat flour is basically a cheap way of thickening or holding ingredients together. A sauce or cake doesn't necessarily need wheat flour; other better and more flavoursome substitutes can be easily found.
However, Christmas always seems packed with wheat flour! Sausage rolls, Christmas cake, Turkey gravy, Christmas pudding, mince pies, ginger bread biscuits for example, how can you miss out on these delicious treats?
Therefore, over the next few weeks my countdown to Christmas will include some gluten free versions of these favourites. This Gluten free Christmas pudding is to die for, so do keep the recipe or go online to www.euroweekly news.com to copy the article.
Steven Saunders's opinions are his own and are not necessarily representative of those of the publishers, advertisers or sponsors.
---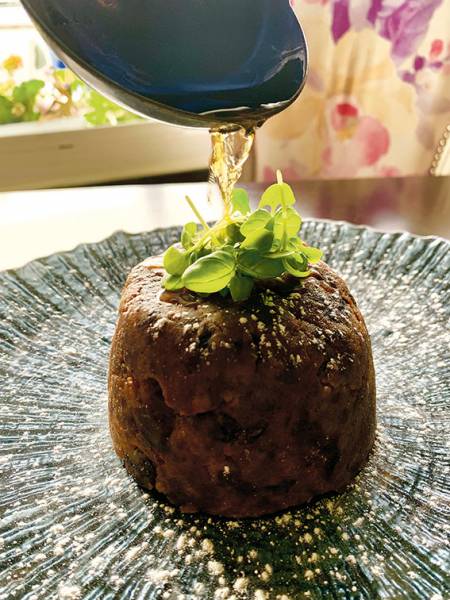 Delicious Gluten Free Christmas Pudding
Makes enough for about 8/10
You will need two 1.5-litre ceramic pudding bowls. You'll also need some greaseproof paper, foil and kitchen string.
Pudding ingredients
200g of ground almonds
60g rice flour
200g gluten free breadcrumbs
1tsp of gluten free baking powder
175g each of raisins and sultanas (washed)
100g of candied peel
2 oranges zest and juice
175g of dried cranberries
175g dried figs chopped
100 g of dried apricots chopped
100g of glace cherries chopped
100g of ginger in the syrup chopped small (but also use some of the syrup – at least two tablespoons)
2 Cox-type apples, peeled, cored and chopped fairly small
300g soft dark brown sugar
Generous teaspoon of mixed spice (or use Chinese five spice)
Pinch of Maldon salt
A full wine glass of cognac (or a liqueur such as Cointreau)
6 free range eggs, beaten lightly together
Method
Soak the sultanas, raisins, figs, peel, apricots, cherries and cranberries in the brandy and the ginger syrup for a few days giving it a stir now and then.
After a few days mix the ginger pieces, apples, orange juice and zest and the eggs. Add the sugar and the breadcrumbs, almond flour and then the rice flour and mixed spice together in a bowl.
Use a large mixing bowl. Simply mix all the fruit and everything else together. Stir very thoroughly.
Grease two pudding basins and divide the mix between them.
Cover the puddings with greaseproof paper. If using ceramic bowls, put on a lid of foil and tie a string handle around the top of the bowl so that you can lift it in and out of the pan.
Put the pudding/s in a saucepan of boiling water, to come 2/3 of the way up the sides of the bowl. Turn down the heat, put a lid on the saucepan and simmer for about three hours.
Check that the water levels are ok – too low (won't cook properly) and not too high.
The puddings are cooked when they are nicely dark.
Store in a cool dark cupboard till Christmas, then replace the foil and steam for about three hours very gently.
Flame with brandy to finish and dust with icing sugar and serve with brandy cream or brandy butter.
Follow Steven on Instagram … saunderschef – Email any questions … steven@thelittlegeranium.com
The Little Geranium, Winner of Best Contemporary International Restaurant 2019-Costa Del Sol – www.thelittlegeranium.com