On Monday November 11 the Italian Carabinieri, supported by Italian Customs and Europol, apprehended 1175 kilograms of cocaine in the Port of Giola Tauro in southwest Italy.
The cocaine was distributed in 144 packages and hidden within a case of refrigerated bananas. Shipping documents show the container was destined for Germany. Italian Finance Corps and Customs authorities detected the substance while performing a thorough risk analysis to several vessels and containers arriving at the port. Once the large amount of cocaine was found, the case was referred to the Anti-mafia Prosecution Office.
Europol and Frontex experts were on-scene to provide provided technical assistance. The fast deployment of Europol office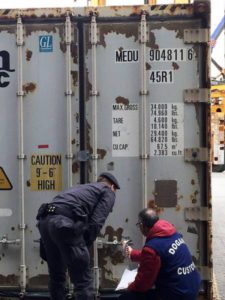 rs meant an immediate exchange of information to other potentially affected EU countries.
This finding has confirmed the port of Giola Tauro as a major hotspot for drug trafficking and the distribution of cocaine to western Europe. Over 2.5 tonnes of cocaine passing through this port have been seized by Customs and police in the past year.
Recent Italian investigations have placed 'Ndrangueta Mafioso structures as the active player in transnational cocaine trafficking. Although the 'Ndrangueta isn't as famous abroad as the Sicilian Mafia, it became the most powerful criminal organisation in Italy in the early 2000s. Agencies working against organised crime have estimated that the Mafioso group from Calabria could see annual earnings of €40 billion, approximately 3.5 per cent of Italy's GDP.