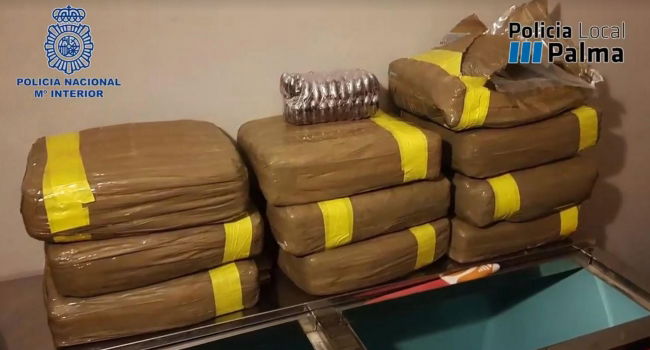 AGENTS from the National Police and Palma Local Police have halted a large-scale drug trafficking organisation in Mallorca, arresting three main members of a criminal gang.
Over the weekend, officers seized more than 300kg of drugs as well as significant sums of cash, marking the end of a two-month investigation that hopes to be a major blow to drug trafficking on the island.
Officers responded to information received which pointed to a new way of selling narcotic substances in Mallorca through importing drugs from gangs operating in southern Spain.
The police found that the members of the organisation had made a major leap in the world of drug trafficking, by dealing large quantities of drugs to trusted clients and using safe houses to conceal their criminal activity.
The safe houses were created with the purpose of hindering police action by being located in urban or rural farms, in streets with little traffic or in quiet urbanisations that were able to hide activity and ensure the anonymity of the members of the organisation. Large amounts of drugs were stored at these properties, with the group increasing security measures with constant surveillance.
In most cases, neighbours were never aware of the illegal activity given the discretion with which the gang used.
At 1am on Saturday, November 9 agents carried at searches on properties in Sencelles, Marratxi and Palma, dismantling several marijuana plantations and proceeding to the arrest of three alleged perpetrators of various drug trafficking offences.
The operation seized approximately 100kg of hashish, more than 200kg of marijuana and over 1,000 marijuana plants which officers described as the "most sophisticated indoor plantation discovered this year". In addition, more than €50,000 was found in cash at the properties.
The police believe that the operation has put an end to the movement of large quantities of drugs by this criminal gang and will halt the supply of small drug deals in Palma and other locations on the island.
The collaboration between the National Police and Palma Local Police has already achieved great results in terms of the elimination of drug trafficking on the island, which has seen 90 operations carried out this year.
The joint action is in response to concerns raised by the community about small-scale drug trafficking in inner-city neighbourhoods, where the police want to tackle the problem through investigating the leaders of illegal activity.