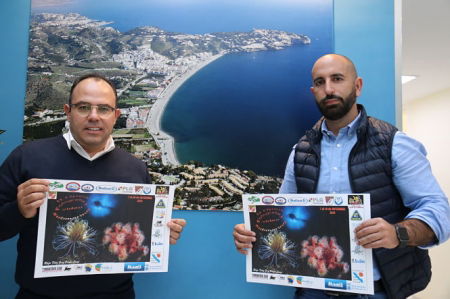 THE judging for the 2nd 'Open de Fotografía y Vídeo submarino Bahía de La Herradura' takes place this week which has showcased the best of the regions underwater photographers in a stunning competition.
The judging began on Thursday and will run until Saturday to decide the best photographs and videos from underwater dive sites such as Punta de la Mona, the Marina del Este and La Herradura Bay.
Councillor for Tourism, Daniel Barbero explained that "the waters between Cerro Gordo and the Peñones de El Santo are the richest in the Mediterranean in flora and fauna"
Mayor of Almuñécar, Juan José Ruiz Joya explained that "La Herradura is one of the few municipalities where the activity can be carried out 365 days a year. This allows it to be an activity that helps to break the tourist seasonality since it can be done all year round. In summer it gets to gather up to 800 and 1000 divers daily in the summer months."
Spanish Champion divers Rafael Fernández, Félix Aguado and Jesús Osorio participated in this years event as well as reigning World Sub-Champion/European Champion José Carlos Rando.
Each team participating in the competition dives had been allocated area in which to take their submissions, with four areas to be explored ranging from 5 metres to 45 metres in depth.
The areas marked out were Los Berengueles, Marina del Este, Punta de la Mona and the Cala del Perro and dives were limited to 75 minutes in order for the divers to gain some of the best quality material possible.
For the material to be valid, the footage must have been taken between March 15, 2019 and June 5, 2019 and adhere to strict parameters.