NICK CONRAD says he will not stand as the Conservative Party's candidate for Broadland in the general election after being criticised for comments he made in 2014 in which he said women should "keep their knickers on" when discussing a rape case
The former BBC radio presenter, Nick Conrad, 34, who hosted BBC Radio Norfolk's breakfast show, had been selected as the Conservative party's parliamentary candidate for the Broadland seat, last Wednesday evening after resigning from the BBC just the day before.
However the candidature has sparked controversy and Nick Conrad has once more been highly criticised for the comments he made in 2014 when discussing rape.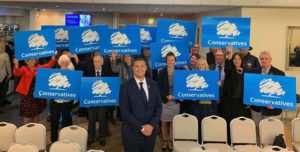 During an on air discussion in 2014, he said: "I think women need to be more aware of a man's sexual desire. That when you're in that position that you are about to engage in sexual activity, there's a huge amount of energy in the male body, there's a huge amount of will and intent, and it's very difficult for many men to say no.
"Women also have to understand that when a man's given certain signals he'll wish to act upon them and if you don't wish to give out the wrong signals it's best, probably, to keep your knickers on and not get into bed with him."
He apologised for the comments at the time and no further action was taken.
Senior Conservatives including the Prime Minister have condemned the "reprehensible" rape comments
Labour said he was not fit to be an MP and should be dropped as a candidate.
Angela Rayner, Labour's Shadow Education Secretary, said: "These views should be consigned to the dustbin of history. They have no place in the 21st Century, let alone in Parliament.
"He is not fit to be an MP and it would be an affront to women everywhere if he were to become one."