A 12 hour search on foot through the Sierra de Gredo mountains in central Spain eventually found the body of a hiker who had been reported missing.
At 11.50 pm on midnight emergency services had been notified that the hiker was missing after he failed to return to his car at a mountain car park.
Two members of the Guardia Civil's Mountain rescue group who started a search for the missing man. They called for help from the Guardia Civil helicopter, based in Torrejón de Ardoz (Madrid), but due to the severe weather conditions it could not fly.
That left the officers with no choice but to continue the search on foot across very difficult terrain and in extreme weather conditions.
They endured strong gusts of wind, rain, snow and fog that posed considerable danger to the specialists, crossing the extremely dangerous terrain.
Eventually the found a body which matched the description of the man they were searching for. It is not clear how he died. He was in an area known as 'Canal Norte Clásica del Almanzor', in the municipality of Zapardiel de la Ribera (Ávila), at a height of 2,441 metres.
They had found the hiker, but it would be 24 hours before his body was finally recovered due to the adverse weather conditions.
After reporting the find the officers returned to base.
Then five Guardia Civil from Greim and one from Ereim (both specialist mountain units) set off to recover the dead man at 1.35 pm on Tuesday. They had held off initially hoping for the weather to clear sufficiently for the helicopter to be used, but in fact the weather worsened.
It would not be until 9.25 pm that they would return, having carried the body on a stretcher over the hazardous slopes and tracks in the mountains.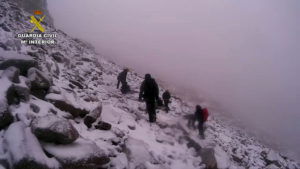 They arrived back at the mountain car park where the victim's relatives were waiting to identify him, before he was taken to the Navarredonda de Gredos Health Centre.
The doctor certified death and he was then transported to the Anatomic Forensic Institute of Avila who will determine the causes of death.
The Guardia Civil is now reiterating its advice to people heading for the mountains.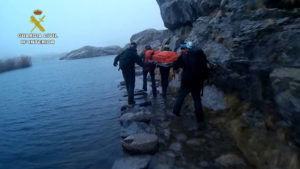 It says: "Always, and before carrying out any sporting activity in the mountains, whatever its nature, it is very necessary to study and know all the challenges that you are going to face. Whatever the activity that we choose to carry out during an outing to the mountains, it is always necessary to take the necessary safety measures in order to avoid any type of problem or unforeseen event.
"People must make good plans and be properly equipped as well as be in a good enough physical and mental conditions appropriate for the activity."