THE acting Minister for Ecological Transition, Teresa Ribera has reached out to 16 year old activist Greta Thunberg to help her attend the Climate Summit in Madrid on December 2.
The minister took to Twitter to contact Greta to help her cross the Atlantic back to Europe to attend the summit after the student openly asked for help to make the journey without the aid of aircraft.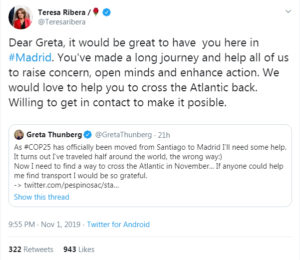 Thunberg made the trip over the Atlantic earlier in the year by sailing boat to visit the UN headquarters in New York as well as to attend the United Nations Climate Change Conference (COP25) which was originally going to be held in Santiago de Chile.
However the event was moved to Madrid, meaning Greta now needed to return back to Europe.
"As #COP25 has officially moved from Santiago to Madrid I will need help. It turns out I've traveled halfway around the world, the wrong way. Now I need to find a way to cross the Atlantic in November … If anyone could help me find transportation, I would be very grateful," Thunberg asked on Twitter.
Last Tuesday, Thunberg rejected the Nordic Council's environmental prize in protest at the lack of action against the climate crisis.
She was also recently nominated for the Alternate Nobel Prize by the Swedish foundation Right Livelihood Award and also nominated for the actual Nobel Prize for her work against climate change.