THE witch hunt in Spain
Although we usually associate Salem witches of New England with witch trials, the greatest and most ruthless trial for witchcraft was actually carried out in Spain.
In Spain, the Catholic Church sought heretics to punish them and, as a consequence, religion was homogenized in Europe.
"Witchcraft" became part of the profile of heretics and no trial in history can compete with those that occurred in the city of Zugarramurdi.
The caves near the town of Zugarramurdi in northern Spain was rumoured to have been home to witchcraft and other pagan practices and the focus of the largest single witch trial in history.
According to popular belief, during the 17th century (and before) the wide rock enclosures that can be found in the town's locality were witness to bonfires, wild parties, and other generally pagan festivities staged by the town locals. The caves themselves were carve by the Olabidea stream which is said to originate in Hell itself, which may be where the stories of witchcraft began. However, stream aside, the haunting space of the caves easily conjur images of black magic from it's atmosphere alone.
The caves and the town of Zugarramurdi caught the attention of the Spanish Inquisition's witch hunters who investigated the area and identified a number of citizens who were tried at the largest witch trial in history (over 7,000 cases were seen). A number of the accused were put to death and the town and its large caves were forever associated with the dark arts.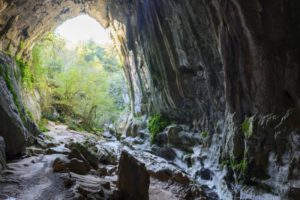 For several hundred years, no one really knew the extent of the witch trials that took place in the Basque Country around this time period — mainly because the Catholic Church hadn't supplied the records.
But the Vatican eventually opened the archives to researchers so that they could better understand not just the motivation for the inquisitions, but the methods.
It was at this point that the sheer scope of the inquisitions first became known.