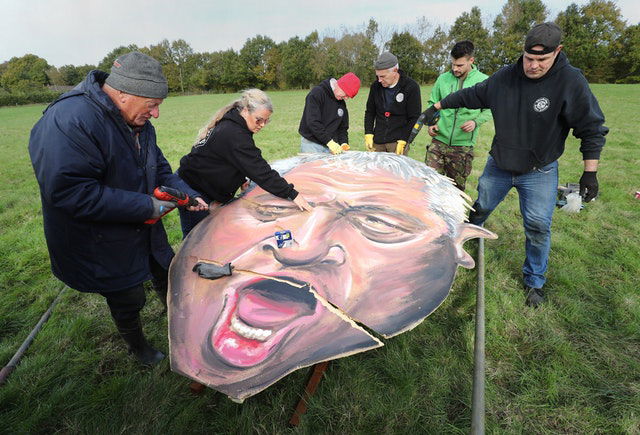 Edenbridge Bonfire Society has confessed Speaker John Bercow is at the centre of its celebrity bonfire for 2019.
Heavy winds in Kent though have ripped the head off the Celebrity Guy for the year.
After burning figures previously including Boris Johnson, Donald Trump and Harvey Weinstein, Edenbridge Bonfire Society in Kent has this year chosen the House Of Commons speaker due to his controversial behaviour over the last year.
The Bercow " Guy" is also holding the heads of Prime Misiter Boris Johnson and Labour leader Jeremy Corbyn and was unveiled this morning.
Although they won't go up in fames until their bonfire party on Saturday allowing time for Bercow to have a new face!
The event attracts thousands for miles around and does raise alot of funds for charity.
Andrea Deans, who created the new figure, said: "As always, we received many suggestions for who the public would like to see at our event and this year it was a close vote between John Bercow and Piers Morgan.
"However, John Bercow is not going to be on his own on the night as we have included Johnson, Corbyn and the whole Houses of Parliament to join him."