CHILDREN affected by the Gota Fria storm will benefit from €640 raised by the SAMM Stompers.
On Saturday, October 12, Caldero Day at show ground Los Alcazares, every hour on the hour "Achy Breaky Heart" blasted out from the speakers. This was the signal for the "SAMM Stompers" to perform their line dance routine to the gathered audience. Twenty people in superb harmony, most dressed to impress in Stetsons and check shirts entertained the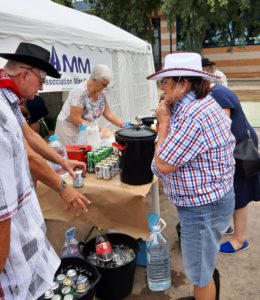 crowds
At the same time the Bucket Brigade circulated encouraging people to lighten the load in their pockets by dropping their loose change into the bucket.
After a while Caldero Day visitors, of all nationalities including a couple who had been married that day and arrived in their wedding finery, started to join in, following the routine the best they could. The numbers gradually grew until between 100 and 120 people are dancing, so many that Murcia Channel 7 TV filmed and interviewed the fundraisers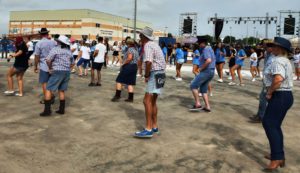 The money raised will be used to help children, with a priority being for replacement school books.
SAMM is the Sailing Association Mar Menor. More information: www.sailingmarmenor.com
—
Please note that our current charitable activity is on behalf of Cuidad de los Niños orphanage in Malaga.
If you would like to make a small contribution to this cause it would make a great difference to the orphans of Malaga!
Please donate at: https://www.gofundme.com/f/beunited-for-malaga-orphans