POLICE had to evacuate an apartment block in Campello after fire broke out in its garage.
Alerted at around 8pm by the Emergency Services after smoke was seen billowing from the garage, the Guardia Civil and Policia Local cordoned off the area, ordering the evacuation of the first and second-floor apartments.
Residents living in higher floor were advised to keep door and windows closed to prevent smoke from entering their apartments while the police prevented residents trying to rescue their vehicles from entering the garage.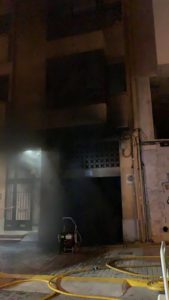 Firefighters from San Vicente soon had the fire under control and by 9.30 it was safe for residents to return to their homes, Campello's Public Safety department announced.
An inspection revealed that the fire, which originated in the engine of a parked car, had spread to other vehicles inside the garage, which remained closed until the temperature had fallen and firemen had dispersed the smoke.
No-one was injured in the fire, Public Safety councillor Rafa Galvañ confirmed afterwards, although there was considerable smoke damage to the garage and the building's exterior walls while clients had to leave a nearby bar.
–
If you have enjoyed this news article, please note that our current charitable activity is on behalf of Ciudad de los Niños orphanage in Malaga.
If you would like to make a small contribution to this cause it would make a great deal of difference to the orphans of Malaga!
Please donate at https://www.gofundme.com/f/beunited-for-malaga-orphans