LOCAL residents, cycle club members and businesses came together to clean up the countryside in Altea.
More than 100 people responded to the Altea Cyclist Club and local council's call to go along on Sunday and do their bit to get rid of rubbish from the Tossal de Mandem area of the municipality in collaboration with a number of local businesses.
Environment councillor Jose Orozco described the initiative as a complete success. He said there was very much a festive, family atmosphere to the day, which saw the volunteers, cyclists and business people remove an impressive 4,000 kilos of debris, waste and dry vegetation, which he stressed could have been fuel for a forest fire. They also carried out repairs to mountain tracks.
"We hope these kinds of actions will continue in the future and we can therefore enjoy the area see how pretty it is", the councillor commented.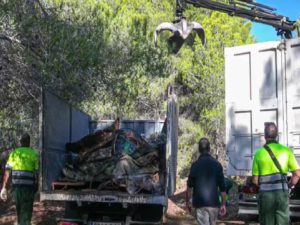 If you have enjoyed this news article, please note that our current charitable activity is on behalf of Ciudad de los Niños orphanage in Malaga.
If you would like to make a small contribution to this cause it would make a great difference to the orphans of Malaga!
Please donate at: https://www.gofundme.com/f/beunited-for-malaga-orphans