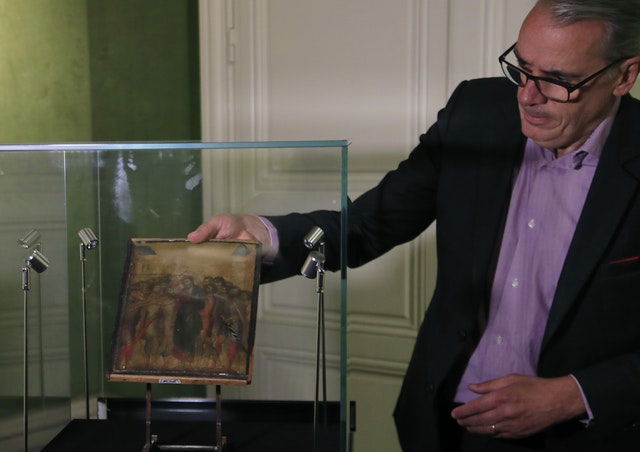 An old painting which was found in the kitchen of an elderly French woman who considered it a bit of old tat has made her a multimillionaire.
The work, a masterpiece attributed to the 13th-century Italian painter Cimabue that was found this year, sold for 24 million euros (£20.7 million).
Dominique Le Coent of Acteon Auction House, who sold the work for to an anonymous buyer near Chantilly, north of Paris, said the sale represented a "world record for a primitive or a pre-1500 work".
Mr Le Coent said: "It's a painting that was unique, splendid and monumental. Cimabue was the father of the Renaissance. But this sale goes beyond all our dreams."
The little elderly lady had hung the picture on a wall between the kitchen and dining room and she had considered it a bit of old tat but said liked it.
How it was found was that the owner had called in an auctioneer for a house clearance job when he spotted it and suggested getting it valued.
It was expected to sell for between 3/4 million GBP but at auction went far higher and bidding finished at 20.7 million.
Mr Le Coent said experts were off the mark because it was the first time a Cimabue had ever gone under the hammer.
"There's never been a Cimabue painting on sale so there was no reference previously on how much it could make," he explained.
The little old french lady was last reported drinking champagne in the Ritz Paris fulfilling a dream of hers.