Good morning readers – beautiful start to the day!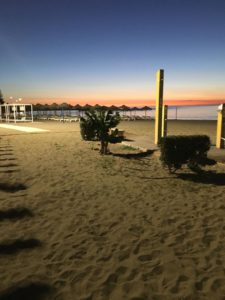 Having received your numerous emails and messages for us to contact our top source at the Met centre, who exclusively predicts accurate weather reports for us, we have done so this morning to your requests.
Reader Thomas Baddley wrote to us with concerns of reports that snow was to hit the UK shortly and he's returning back to the UK shortly – Good news for you Thomas – no snow up till the 17th of November, after that? – have to wait and see but our contact says highly unlikely any heavy falls in November.
So let's move on to here in Spain.
Costa Del Sol region.
Sunday – Sunny all day with a little cloud at times. Highs 22c lows 13c
Monday – Sunny all day slight cloud. Highs 23 lows 14c
The week is to warm up thereafter with temps raising by Friday to highs of 25c
As for rain?
Our contact predicts nothing until next week when Tuesday could see showers turning heavier on Wednesday but he stated that's a long shot forecast and he will update us nearer the time.
Costa Blanca North follows exactly the same pattern as the Costa Del Sol apart from the rain forecast as our source sees little chance of rain.
Costa Blanca South … once again fine weather as above following the same pattern, maybe a shower in two weeks time.
As we thanked our source he said he had to dash off, not for weather reasons – he's Welsh and wanted to tune into the Rugby, we asked his prediction he said " Wales win!" but advised he's better with the weather!