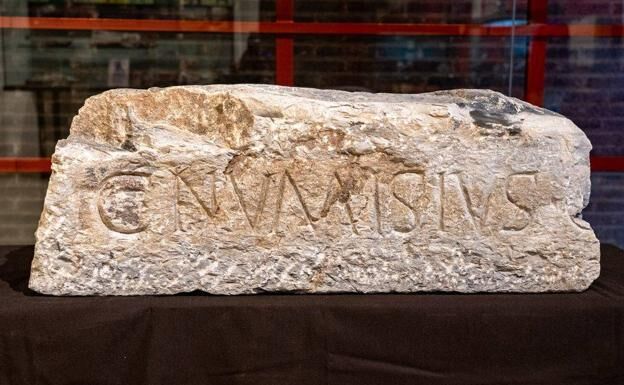 AN historic Roman tombstone that was stolen from Cartagena in 2005 has finally been returned.
It has been added to the collection of the Enrique Escudero de Castro Municipal Archaeological Museum and would have been part of a large epigraph in which the name 'Caius Numisius' can still be read.
The Numisius tombstone was received at the museum by the mayoress of Cartagena, Ana Belén Castejón; the councillor of Culture, David Martínez; the councillor delegate of this area, Carlos Piñana; accompanied by the technician of the Municipal Archaeological Museum, María Luisa Saura; and the general director of Strategic Projects of Historical-Artistic Heritage and Culture, Damián Pérez. Also present was the councillor of the municipal corporation, Jesús Giménez.
The stone was embedded in one of the walls of a building attached to the monastery of San Ginés de la Jara.
It was stolen from there in 2005 before being recovered by police attached to the Directorate General of Cultural Heritage in 2017. Since then it has been at the Provincial Archaeological Museum of Murcia for cleaning and study, until its transfer back to Cartagena.
—
If you have enjoyed this news article, please note that our current charitable activity is on behalf of Cuidad de los Niños orphanage in Malaga.
If you would like to make a small contribution to this cause it would make a great difference to the orphans of Malaga!
Please donate at: https://www.gofundme.com/f/beunited-for-malaga-orphans