The Duchess of Cambridge has been spotted shopping in Sainsbury's in Hardwick, Cambridgeshire.
Duchess Kate, 37, was pictured, together with Prince George, 6, and Princess Charlotte, 4, by a supermarket customer at the checkout. The royal wore a black polo neck and had her hair pulled back as she made her purchases at the Sainsbury checkout.
Mum-of-four Kathy Whittaker, 53, said of the celebrity spot on twitter: "Another shopper said that Kate was in the shop near the clothing and pointed where she was to me. I just couldn't believe it."
"She was with Charlotte and George looking at Halloween outfits but her bodyguard was kind of watching people with phones and telling them no pictures.
"I managed to get the photo as she was at the self-service check out."
Katy added: "I didn't see what she actually bought. The lady that told me she was there had children with her and she said Kate was asking her children what they were going to be for Halloween.
"I think she bought some Halloween bits for her kids but I don't know what."
Kathy from Norwich added that the Duchess appeared "down to earth" and looked "beautiful as always."
It's doubtful she's coming to Fuengirola but the gracious Duchess is always welcome just as everybody is!…. we look forward to seeing you there.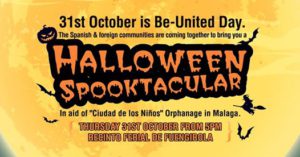 ………
If you have enjoyed the joy of this news article, please note that our current charitable activity is on behalf of Cuidad de los Niños orphanage in Malaga.
If you would like to make a small contribution to this cause it would make a great difference to the orphans of Malaga!