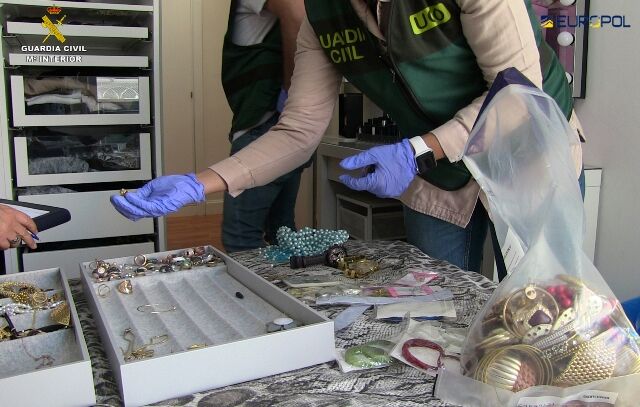 MEMBERS of a criminal gang of thieves targeting luxury homes in different regions of Spain are under arrest.
The Guardia Civil said they believed the four individuals detained were responsible for breaking into 14 properties in Asturias, Castilla y Leon and Madrid.
Their victims included top professional footballers playing in Spanish La Liga top division clubs like Real Madrid and Atletico de Madrid.
The Guardia identified three of the arrested gang members as Albanians. They revealed the head of the gang was already known to the authorities, and had been arrested back in 2007 for a violent hit on the home of a well-known audio visual producer and businessman.
Operation 'Habitat Rinia', on which Europol collaborated with the Guardia, involved raids on three addresses in Madrid and one in Toledo. Officers seized a whole bunch of items related to the crimes under investigation, among them jewellery and cash.
They also seized top-of-the-range vehicles stolen from luxury properties.
After changing the number plates the gangs used the stolen cars when carrying out subsequent break-ins.
The Guardia highlighted the extensive measures the gang took to cover their tracks and in their surveillance of potential targets. They also discovered that the group would come to Spain for periods of about a month for a campaign of robberies, then scarper to other countries before returning for another series of hits.
The suspected gang members now face charges of breaking into inhabited properties, reception of stolen goods, vehicle theft and fake documents.
The Guardia has also arrested a man in Madrid for receiving stolen jewellery and other items; he is accused of turning items of jewellery into gold which was impossible to trace.
The Guardia said investigations continued to establish whether the gang was responsible for other robberies with similar characteristics to the 14 already linked to the detainees. The search is also still on for a fifth suspect, again of Albanian origin.
—
If you have enjoyed this news article, please note that our current charitable activity is on behalf of Cuidad de los Niños orphanage in Malaga.
If you would like to make a small contribution to this cause it would make a great difference to the orphans of Malaga!
Please donate at: https://www.gofundme.com/f/beunited-for-malaga-orphans