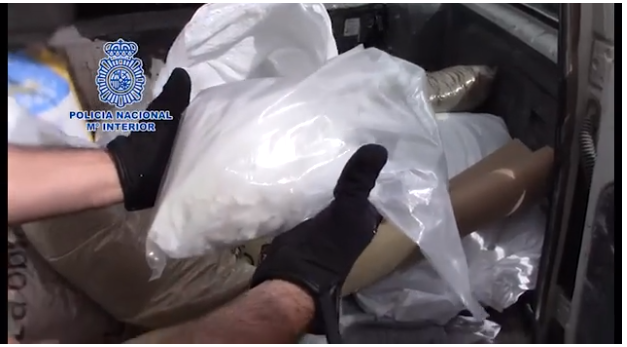 POLICE have found more than 100 kilos of crystal meths hidden beneath a load of rubble in a van.
WATCH: More than 100 kilos of crystal meths hidden beneath a load of rubble inside a van were found by police in Madrid.

Geplaatst door Euro Weekly Newspaper op Donderdag 24 oktober 2019



National Police officers were deployed in a car park in the Campo de las Naciones area of Madrid as part of another investigation, when they noticed a man behaving suspiciously.
He had approached a van which was in a very poor condition. He then "showed a nervous attitude" according to police, checked his telephone on several occasions and then crouched in front of the vehicle to pick up the key, which was hidden on the left wheel.
As soon as he tried to remove the vehicle, the police approached and asked to see documentation.
As the man continued to show signs of nervousness the van was searched. Officers found several sacks of rubble, in which were hidden bags containing a crystalline substance and dust.
At that moment he was arrested and taken to the police station, where it was confirmed that the substance was methamphetamine, in the form known as crystal. In total 66 bags of the drug weighing 1.5 kilos each were discovered.

–
If you have enjoyed this news article, please note that our current charitable activity is on behalf of Cuidad de los Niños orphanage in Malaga.
If you would like to make a small contribution to this cause it would make a great difference to the orphans of Malaga!
Please donate at: https://www.gofundme.com/f/beunited-for-malaga-orphans