Norma Jones fostered over 320 children from Children's homes all across the globe over a 40 year period and today she spoke to the Euro Weekly News after seeing our fundraising campaign online for the Children's orphanage in Malaga.
Norma Jones and her late husband who we must not forget is from just outside Cardiff where she resides now in a mobile home on the cliffs of Sully after Keith's passing.
When she can get the money together, she comes to Benalmadena for a sun break but it's not often having spent her life's money on taking in children from care homes, rebuilding their lives and setting them on the correct path of life.
Norma and Keith took into their home in Pentyrch over 320 children in 40 years and she would still not change a thing as she felt at the time and still does it was her life's ambition.
It was an unexpected trip to a Children's home Norma explained on her recent visit to Spain, she explained how her friend Margaret who already fostered kids asked her to accompany her to a children's home in Richmond road Cardiff in 1979.
Norma explained " I already had my daughter Hayley and son Phillip so the last thing on my mind was fostering myself but Margaret asked me to go along her with her as she had "released" into the world a 19-year-old who she had fostered for 10 years, and a hole was missing in her life."
" When I entered the Children's home I have to say I was startled, whilst clearly the staff of the home who were all volunteers shared as much love as possible the children really did have the life's basics, a few minor clothes and hygiene basics, rooms were filled with multiple bunk beds where little Children shared bedrooms, I remember clearly to this day those sorrow little eyes looking up to me just looking out for love"
Norma explained, " I knew it was my life's calling, I couldn't just standby and not do anything and so I applied to be a fosterer taking these Children out of care"
" Keith and I firstly fostered a little one and a young teenager called Amy who had been abandoned at the age of 5 found in a bus shelter in Newport, I requested Amy as nobody had given her a further chance of normal life and she had been in the home for over 6 years living on very basic's and that's all she really knew – today she's happily married with 3 lovely children"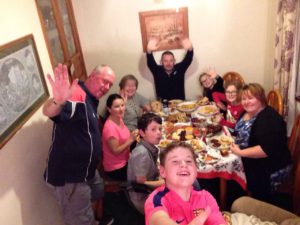 Norma with some of her brood.
"We were fortunate to have a 4 bedroom ex-council house so when my own children left home it was time I thought to extend to fostering more orphans at a time, sometimes up to 5 or 6. some stayed for a few years until they reached 16/17 years old when we would support them finding them employment and their own homes, or others going for complete adoption often to couples who couldn't have children themselves."
" I only stopped when my rock of a husband passed away suddenly in our early seventies, and then it only really dawned on us how many we had fostered when it came to the turn out of Keith's funeral as the church bulged due to the attendance"
"What I really want to say to the folk in Spain, whilst systems have now changed for the better for children in the UK, Spain seems so far behind when it comes to orphanages as they still only live on the basics as they cry out for love and face uncertain futures, I'm no Bob Geldof ….. but may I plead to all you expats to make a donation however small to assist the EWN with their fundraising for the Malaga orphanage, it all adds up and makes such a huge difference to these poor souls life! Imagine the huge difference it would make if all EWN readers just donated 5 euro's, the price of a packet of ciggies, 2 x pints of beer, that short sacrifice would make such a huge difference to nearly 50 children"
"PLEASE PLEASE PLEASE JUST TAKE 2 MINUTES TO REFLECT WHAT A HUGE DIFFERENCE YOU CAN MAKE" pleads Norma.
…………………….
If you have enjoyed this news article, please note that our current charitable activity is on behalf of Cuidad de los Niños orphanage in Malaga.
If you would like to make a small contribution to this cause it would make a great difference to the orphans of Malaga!