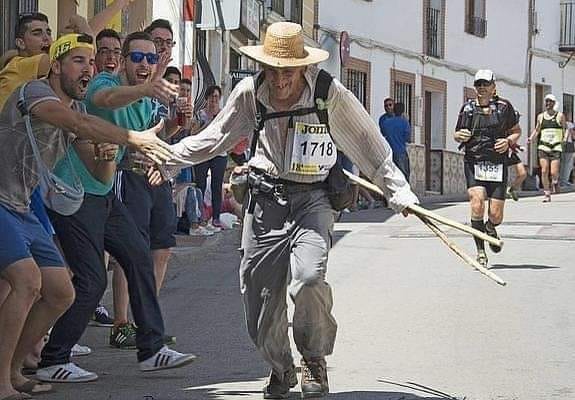 PACO CONTRERAS, of Malaga, became a benchmark in the world of Ultratrail when he started competing in ultra-distance races.
The tragic news was reported yesterday (Tuesday).
"Super Paco" became well known in the Malaga province and across many areas of Andalusia and Spain for his peculiar and particular style of running and running attire.
At the age of 60, Paco was detected to have a high level of cholesterol in his blood, so he began walking and doing physical exercise.
The walks became long races and he began to participate in races in the province of Malaga.
His participation was noted by all because of his advanced age but also because of his peculiar running style and attire. Always donned with a straw hat, jeans and long-sleeved shirt. There was never any fancy running gear for Paco.
He would recharge on almonds, raisins and figs during the ultra-distance races instead of the more popular energy gels and isotonic drinks.
"I am the same as everyone else. Super Paco' is not a correct word. They started calling me that and I don't know why. Super Paco doesn't exist," as he insisted on many occasions.
The Malaga runner 'Super Paco' trained at night in the mountains near his home.
He was a simple, country man who lived in the modest neighbourhood of El Sexmo de Cártama, in Malaga's Valle del Guadalhorce, who would have liked to study medicine but only finished his elementary education. He was a voracious reader however, his home was filled with books as well as photos of his children, wife (now deceased) and grandchildren.
Super Paco completed last May the 101 Kilometres race of Ronda, a race he'd participated in many times.
Although he was known as Super Paco, he always considered himself "one equal to all". A different sportsman, who didn't wear technical clothes and ran with a straw hat, jeans and a long-sleeved shirt and became a real hero for many.