Rain and thunder has commenced on the Costa Del Sol bang on time as predicted by our exclusive EWN contact in the Met centre.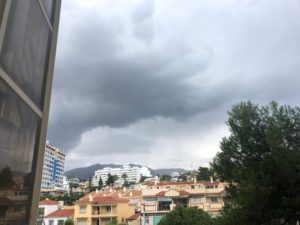 Costa Blanca is also seeing quite heavy rain as he also predicted yesterday after on Friday he went against all other local forecasts and predicted a sunny weekend – and it was exactly that, as other forecasts predicted storms and wet weather.
Always come to the EWN if you want the correct weather forecast here in Spain!
We lead where others follow or in the case of the weather – get it wrong!
Brollies up folks and we will go over to our contact later for a forecast for the rest of the week after he's prepared the weather for this evening's TV stations in the UK.