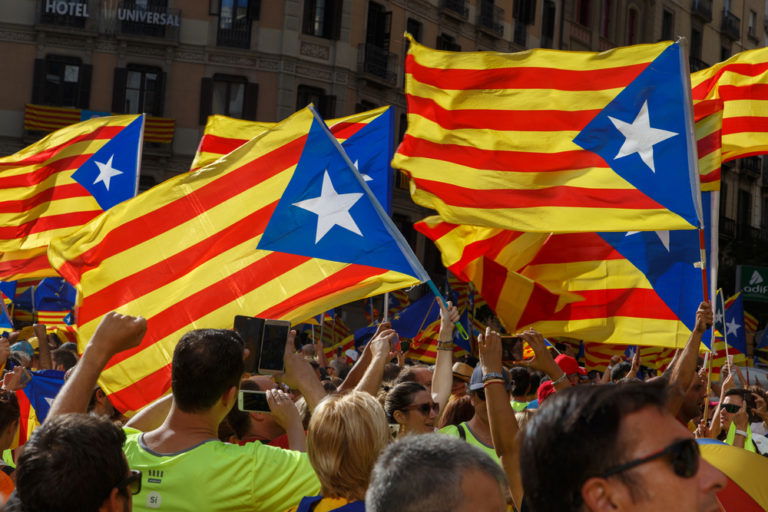 SPANISH acting Prime Minister Pedro Sánchez' visit to Barcelona yesterday (Monday) was met with boos and angry protests following a week of Catalan upheaval over the lengthy prison sentences handed out to pro-independence leaders.
Hundreds of demonstrators blockaded the office of the Spanish government's delegation in Barcelona after it was reported by several media that Mr Sánchez was planning to attend a meeting there.
Mr Sánchez left Barcelona shortly after midday, and a spokesperson from his office denied claims that the protests had forced him to abandon the visit to the delegation, saying no such meeting had ever been scheduled.
Pedro Sanchez has been met by criticism on all sides for his visit the region, to check in on policemen who have suffered grave injuries as a result of the ongoing protests, without taking the opportunity to meet its president, Quim Torra, after a week of chaos on the streets.
"He either doesn't want to, cannot or doesn't know how to find a solution to the situation," said Laura Borràs, spokeswoman for Mr Torra's Junts per Catalunya party.
Mr Torra's office released a video showing a moment in which he is told that Mr Sánchez is too busy to take his call, one of several attempts the Catalan president says he has made to talk to the acting Spanish prime minister in recent days.
Pablo Iglesias, the leader of Spanish Left-wing party Podemos, said Mr Sánchez's refusal to speak to Mr Torra was "a joke".
This is not about whether they get on or feel like talking – it's about institutional responsibility."
Pablo Casado, the leader of Spain's main opposition conservative Popular Party, said Mr Sánchez needed to take a harder line. The prime minister, he said, should write a letter to Mr Torra and demand loyalty or launch the constitutional procedure to suspend Catalonia's autonomy.
Close to 600 people have been injured during the week of confrontations, including 288 police officers.